EHR, PM & Billing Platform for Allergy and Immunology Practices
Boost your practice efficiency & care quality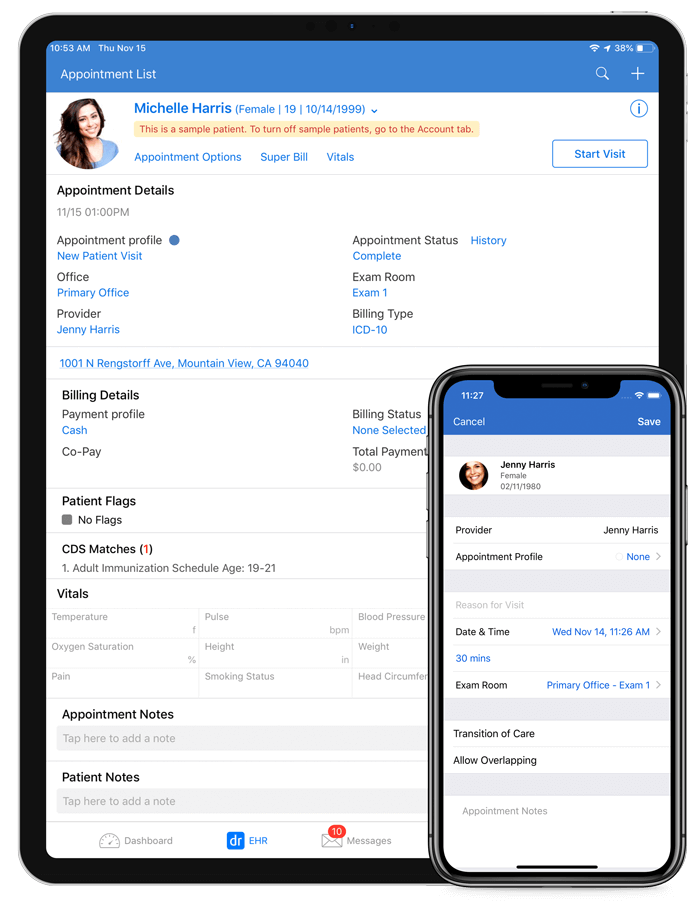 DrChrono Practice Management is intuitive, modern and easy to use for allergists and their staff. Automation and streamlined digital process built into the practice management software allows you to successfully manage your patient care and gives you the ability to easily grow your practice.
Schedule a Demo
Flexible and powerful DrChrono EHR platform lets you customize it into an allergy EHR that fits your unique charting needs. Smart switches and other tools help you speed up charting and documenting so you can use the extra time for patient care or for yourself.
Use pre-built allergy and immunology charts for the most common services from day 1. Customize these templates or build your own to match your unique charting needs.
View historical test results using vital flowsheets, such as peak flow readings or asthma control tests.
Manage inventory of vaccines or other shots with visibility on remaining quantities, expiration dates, and more. Custom vials can be labeled and managed through the DrChrono platform.
Provide patients with digital care materials and take-home physical therapy programs that can be tracked and assessed for follow up at the next appointment.
Record visual results for various allergy tests with a photo from the iPad. Annotate on these photos and upload them directly into your patient chart.
Schedule a Demo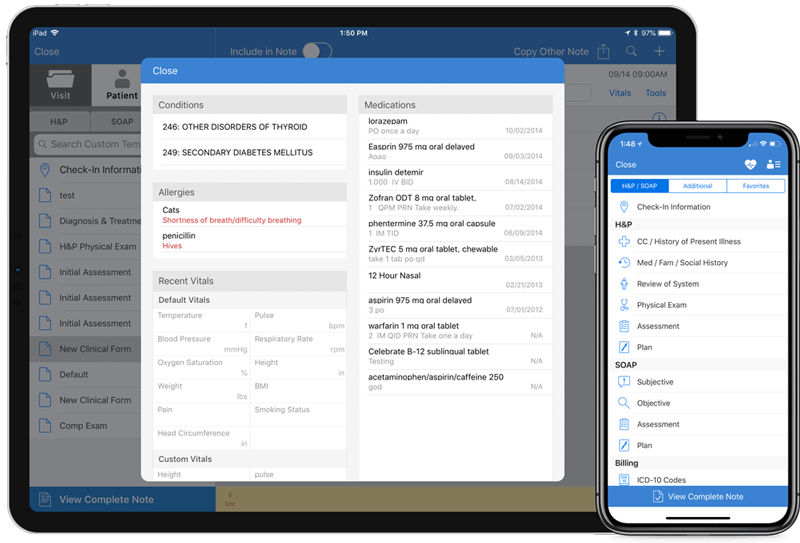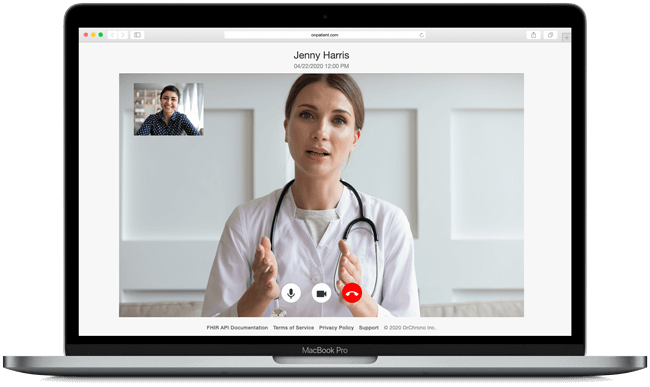 Conduct Video Visits
Schedule and conduct visits directly from your EHR platform without additional downloads or integrations.
Let patients schedule their own in-person or video visits from their patient portal.
Patients have the option to receive a link to their virtual visit without any set-up required on their end.
Quickly and easily schedule a new telemedicine visit, or convert an existing in-person visit to a Video Visit with one click.
After scheduling a Video Visit through DrChrono's telemedicine platform, allow patients to sign forms and fill out background questions.
Utilize our quick charting feature on iPad or iPhone to access your patient's clinical notes during a video visit without having to leave the appointment.
Schedule a Call
Experience "hands-off" billing with DrChrono's full-service revenue cycle management. Our certified team is available to provide complete management of immunotherapy medical billing, from claims submissions to payment posting to coding with dedicated support the whole way.
Certified coders not only ensure you are submitting claims with a high clean claim rate they will also work with you to improve your charting which can lead to an increase in your overall reimbursements.
Many of our customers experience an average of 36 days or less in AR. We have seen some customers double their revenue without seeing any additional patients.
We address each and every claim as you would, not just high-value claims.
Dedicated and certified RCM account managers keep you informed of your financial state and have weekly communication with you.
We provide status updates on your denials within 48 hours.
Schedule a Demo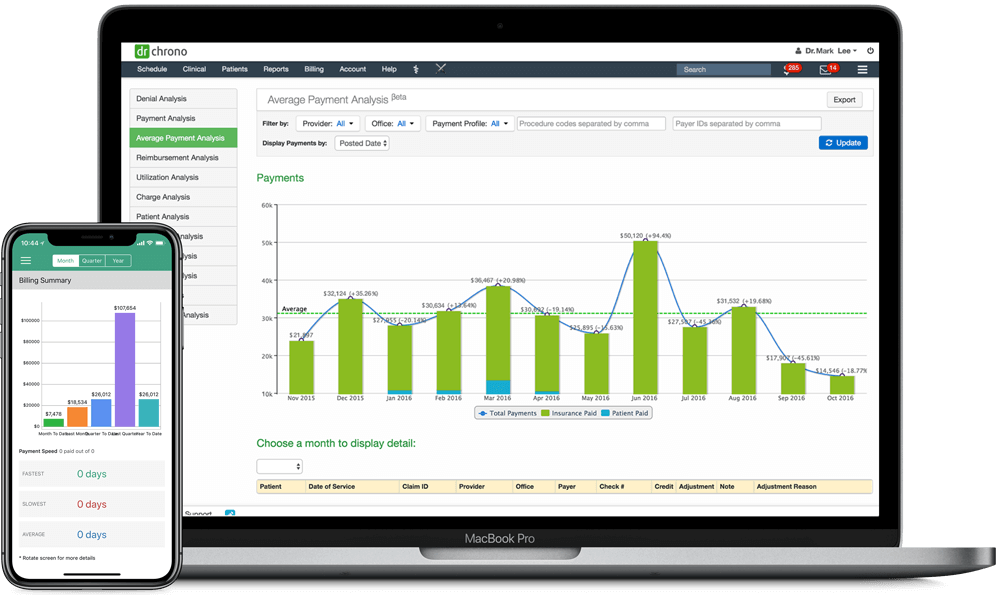 Meghann Feldman
---
Trividia Health

We were fearful of bringing on a new EHR due to the pain in previous corporate practices, but when we found DrChrono we thought it would actually work for what we needed. We hated having to sit behind a computer screen and appreciate the adaptability and mobile function of the software. Dictation into patient's charts also allowed us to engage more with our patients.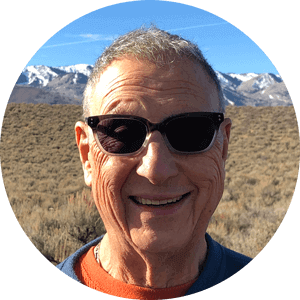 Leon L. Cohen
---
Island Medical Group

This is an innovative electronic medical record software. I highly recommend it. DrChrono is very easy to use and to individualize with a great patient portal. They have excellent support and are cost effective. The part I like the most is the iPad and iPhone compatibility. This makes it easy to access anywhere that internet or cell service is available. It's easy for patients to use for demographics.

An Award-Winning Experience
---
Top Resources for Allergists and Immunologists
---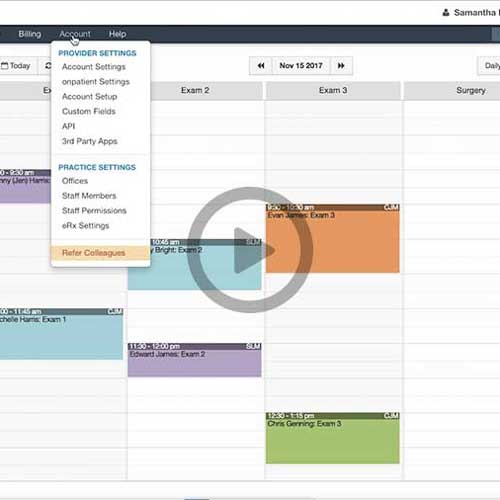 Utilize appointment reminders to keep your patients on their immunotherapy schedules and reduce no-shows.
Automate text and email appointment reminders to minimize late patients and no-shows.
Learn More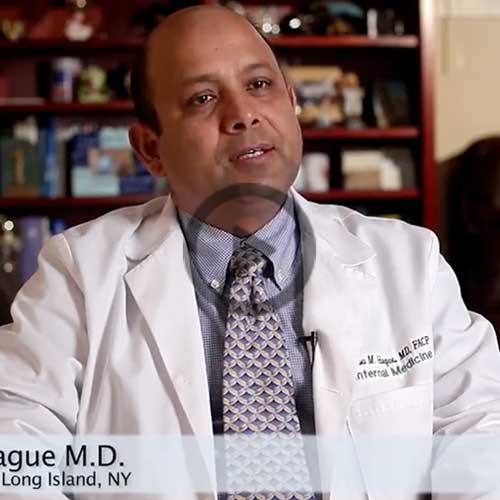 Internist Abu M Haque MD, MBBS, BS
Dr. Haque speaks to how patient interaction improved with the addition of mobility when he adopted DrChrono EHR for his practice.
Learn More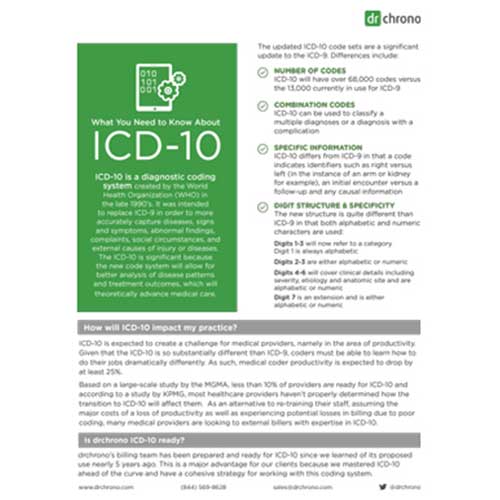 DrChrono is ICD-10 Ready
Allergy and Immunologists can deal with a variety of symptoms that come associated with a variety of codes. DrChrono can relieve pressure for your practice with ICD-10 codes built in, as well as the ability to convert ICD-9 codes when needed.
Learn More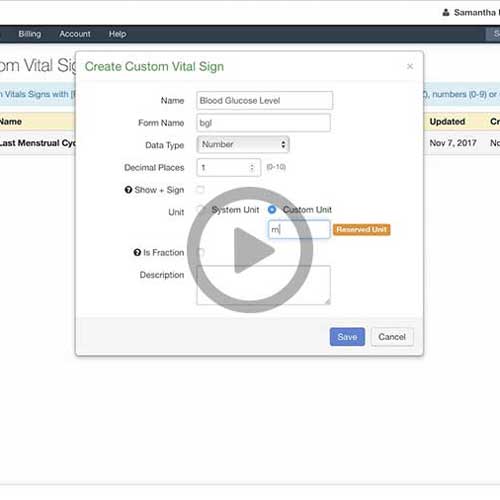 Custom Vitals
Utilize our custom vitals to view historical test results for specific allergy tests, such as peak flow tests, asthma control tests, or any other tests you perform every encounter.
Learn More
Ready to transform your practice?
Request a product demo with an EHR Specialist today!
Request a Free Demo