DrChrono eRx Makes Prescription Writing a Snap
Send e-prescriptions of regular and controlled substance anytime on iPad, iPhone or web
eRx Basics
The concept of electronically prescribing medications is known by a few industry names: e-Prescriptions, e-Rx, and e-Scripts. In the DrChrono EHR, the abbreviation eRx is most commonly used.
Electronic prescriptions take the place of paper and faxed prescriptions and allow physicians to electronically transmit prescriptions using their EHR or other service. With the adoption of eRx, prescriptions become more error-free, accurate, understandable, and documented. As an additional benefit for using the DrChrono EHR, eRx is automatically compared with the patient's medication list/chart to detect any drug-drug or drug-allergy interactions that may prove dangerous or fatal to the patient.
In the United States, the Health Information Technology for Economic and Clinical Health Act (HITECH) authorized the U.S. Department of Health and Human Services to spend significant resources to expand the adoption of health information technology. To meet meaningful use requirements, practices must prescribe and transmit at least 50% of permissible prescriptions electronically.
---
Here are some additional basic eRx information.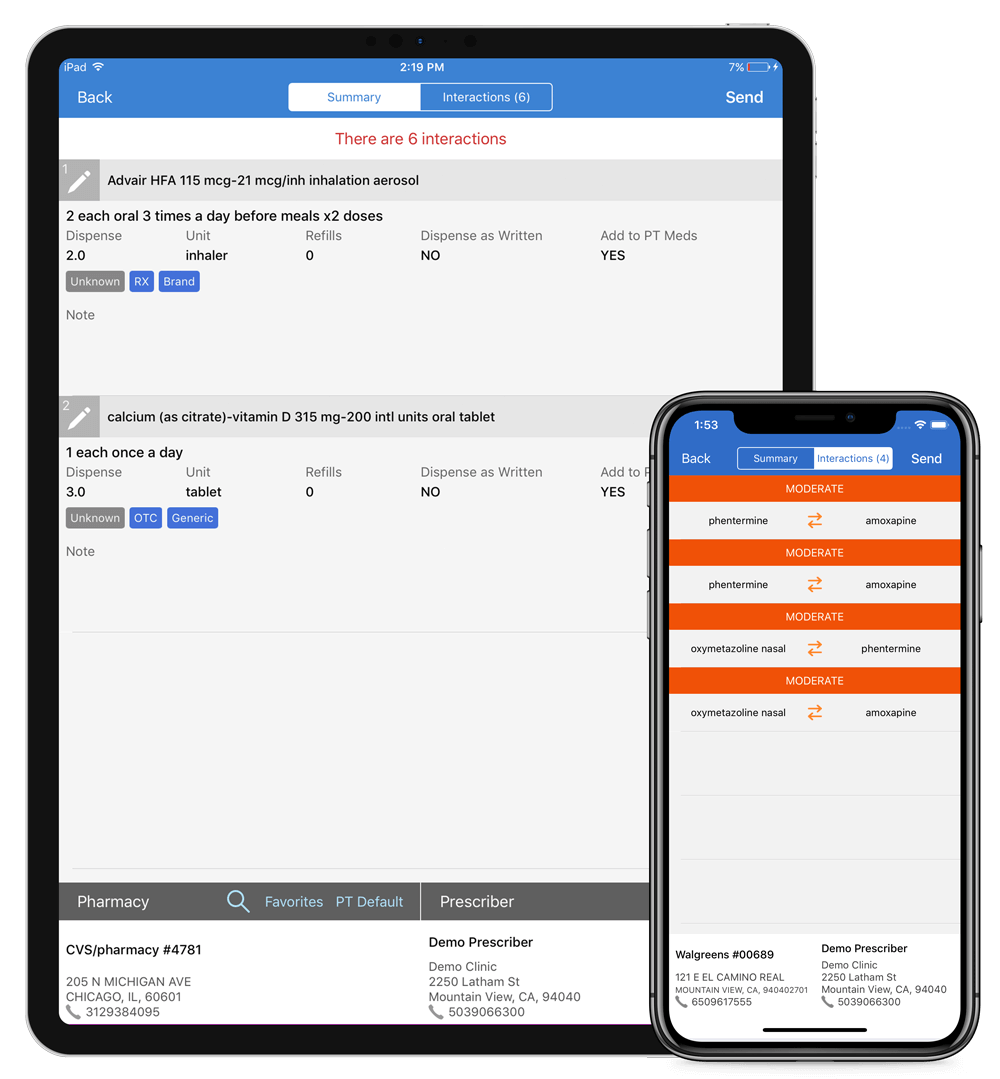 How to e-Prescribe
Pharmacy Benefits
Easily view pharmacy benefits that show whether patient coverage is active and specific co-pay amount for each prescription.
Patient Prescription History
If you want to see your patient's full prescription history, you can access it through the Surescript's network which covers 95% of the US pharmacies.
Quick Prescription
simply pick single, multiple or compound prescriptions, check for drug interactions, and automatically send the e-prescription using an iPhone, iPad or web.
Advanced eRx & EPCS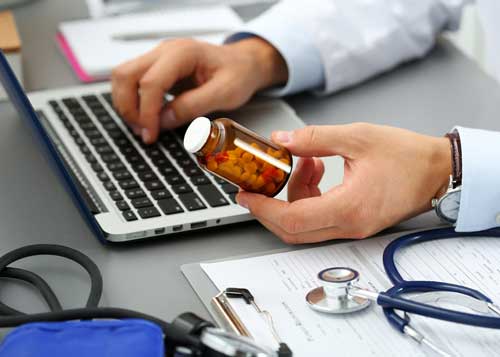 Save time by pre-setting preferences
Using DrChrono EHR, you can save preferred prescriptions by provider and patient as well as the patient's preferred pharmacies.
Easily locate a pharmacy
Using DrChrono EHR, you can save preferred prescriptions by provider and patient as well as the patient's preferred pharmacies.
EPCS compliant
Now you can legally and securely e-prescribe Schedule II-V drugs from your iPad, iPhone, or computer. DrChrono EHR is fully compliant with DEA, NIST and Superscripts requirements. Send electronic prescriptions from anywhere with the highest level of security and fraud protection. Learn more.
---
Surescripts
DrChrono EHR is powered by Surescripts, a service that connects 95% of U.S. pharmacies and provides electronic prescription transmission capabilities. The DrChrono eRx system satisfies all legal requirements mandated by 21 CFR Part 1311 and is certified for Stage 2 Meaningful Use. This integration allows you to view patient's full prescription history through the Surescripts network.
You can choose to synchronize DrChrono EHR system with Surescripts to retrieve patient's past prescribed medications and also add the medication to the patient's medication list.
DrChrono EHR is also automatically loaded with the drug formulary list from Surescripts. When sending an eRx, our EHR system will automatically check whether the medication is available and if not, it will show an alternative available medication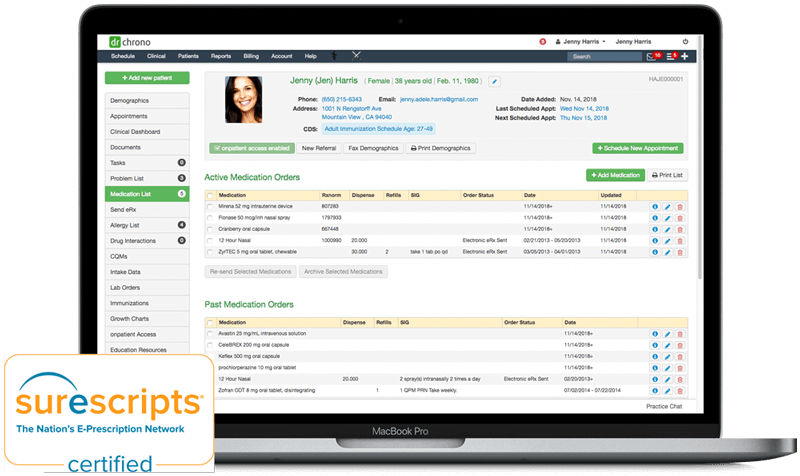 Ready to transform your practice?
Request a product demo with an EHR Specialist today!
Request a Free Demo