Premium Features Powered by Updox
Enhance your patients' experiences, boost office productivity, and drive organizational profitability—all from one location powered by DrChrono's Updox integration!

Our customers benefit from a broad set of capabilities for patient engagement, provider communications and office productivity that work together in a secure and easy-to-use collaboration platform.
Improve Engagement
---
Make it easier to interact with patients in methods they prefer.
Secure Text Messaging
Eliminate wasted time calling patients
Keep patients engaged & staff productive
SMS two-way texting
Secure, HIPAA compliant texting
Attach documents, forms, photos and video
Route incoming messages and responses with workflow queues
No portal is required
Video Visit
Meet with your patients from wherever they are with our HIPAA-compliant Video Visits! Our Video Visits allows your patients to get quality care right when they need it and boost your revenue by seeing more patients through telehealth! What makes our Video Visits stand out:
Up to 19 participants at a time, allowing for group calls with your patient's care team, family members or office staff
Waiting room feature that mimics an in-person visit
Take up to 10 screenshots during your visit
Screenshare
Take visit notes within a box on the Video Visit screen that populate in your post-visit summary
Dial-in capabilities – enable patients to call in in the event of an internet outage
Broadcast Messaging
Send communication to all your patients or select patient groups all at the click of a button! Choose from text message, email and/or phone call to send a message to your patients. Additional broadcast patient messaging features include:
Automatically schedule recurring reminders
Birthday Broadcast Messages (today, this week, this month)
Templates help you operate more efficiently!
Post Visit Surveys
Patient Reminders
Decrease patient no-shows and missed appointments and create workflows that fit your office's needs. Patient reminders can be delivered to your patient by phone call, text message or email.
Allow patient to confirm, cancel or call the practice, all within the appointment reminder.
Utilize templates, create your own, and assign your reminders to different appointment types to automate your workflow.
Increase Productivity
---
Don't waste time with multiple solutions that only complicate your practice.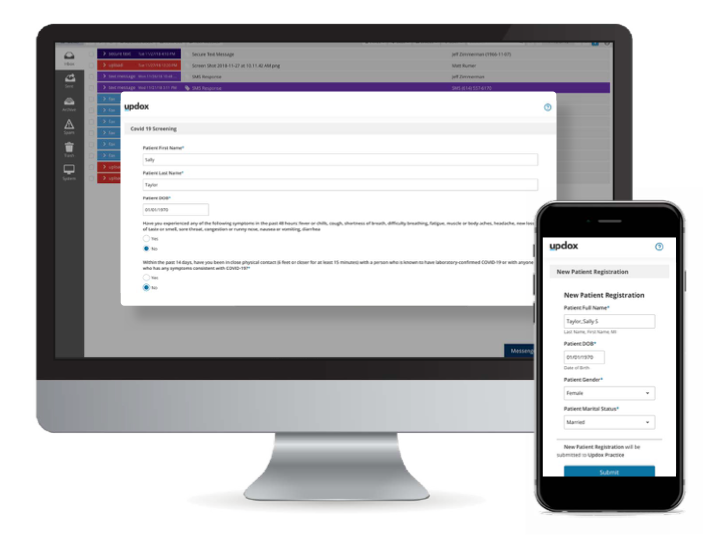 Electronic Medical Forms
Capture medical intake forms online
Expedite the forms process for patients and staff
Easy-to-use HIPAA-compliant forms
Send texts with links for patients to fill out forms
Save time and streamline patient encounters
Electronic forms can be sent, electronically signed, and returned, even without an appointment! The completed forms can then be sent directly to the patient's chart in DrChrono with the click of a button.
Streamline Office Communication
---
Securely coordinate care with other providers and free up valuable staff time.
eFax with Advanced Fax Routing
With our eFax you can send and receive faxes with unlimited pages through a HIPAA-compliant inbox with audit trail capabilities.

Advanced fax routing allows you to automate the organization, ownership, and priority of each document that comes in! Reduce turnaround times on referrals, fulfill prescription renewals faster and improve security - all within this streamlined workflow. You can even receive text message notifications when a new document comes in!
Intra-Office Messenger
Our HIPAA-compliant chat allows you to message staff from any location or device. Utilize group chat or private messages to exchange information in real-time and improve communication without disturbing your workflow.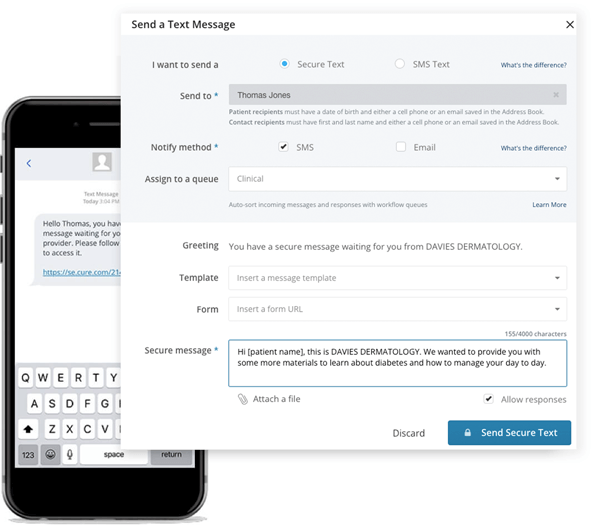 | Feature | Basic Features | Premium Features |
| --- | --- | --- |
| Incoming/Outgoing e-Faxes | | |
| Patient Appointment Reminders | | |
| Electronic Medical Form Templates & Customization | | |
| Secure Direct Messaging | | |
| Intra-Office Messenger | | |
| Video Chat | | |
| Two-Way SMS/Secure Texting | | |
| Broadcasting Messages | | |
| Advanced Fax Routing | | |
| Referral Management | | |
Ready to get started with Premium Features?
---
Request a product demo with an EHR Specialist today!