The Ultimate EHR Selection Checklist
The Short List of Features You Need for Your Practice
Selecting an electronic health records (EHR) platform for your practice is a serious decision. After all, an EHR impacts every aspect of your practice, from scheduling and clinical notes to billing. Ensuring you make the right decision requires a disciplined approach to analyzing EHR features and functionality. Use this checklist to take the pain out of selecting the right EHR for your practice.
---
Fully Integrated EHR Platform
Your electronic health record system has to be more than just a digital locker for your patient records.

Providers need a platform that provides the efficiency and health record integrity of a seamlessly integrated EMR, patient engagement, and medical billing software in one platform, whether you are on your iPhone, iPad or web. You should be able to handle clinical workflows, schedule appointments, conduct telehealth appointments, manage your revenue and more without ever having to leave your EHR app.
---
Customizable Clinical Workflows
Your EHR should be able to be customized to your work style and practice.
Ensure that your EHR lets you customize your workflow with customizable clinical forms and medical templates. Some EHRs position themselves as built for a specialty but don't offer flexibility while others build custom templates for new clients to make sure your EHR is ready to use from day one.
---
Cloud-Based Mobile EHR
Maximize your medical practice's flexibility with a cloud-based, mobile electronic health record software that works on iPhone, iPad or web.
An EHR app allows you to utilize iPad features like the built-in camera, free draw tools, medical speech-to-text dictation and more. A mobile EMR can also help you build a more personal connection with patients. Additionally, web capabilities should offer full administrative access for your staff who may use a laptop or desktop. Because the software would be cloud-based, you can do all of this securely from anywhere.
Short List of EHR Features Your Medical Practice Needs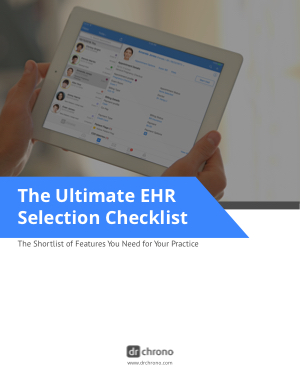 ---
Interested in a demo of what Black Book has called the best Mobile EHR for 9 years running?
Schedule a Call