ONC 2015 Edition Certification Information
Start Attesting and Qualifying for Government Incentives
---
DrChrono is certified as a Complete EHR by an ONC-ATCB. Use DrChrono in your practice to qualify for government incentives per the HITECH Act.
---
What is MIPS?
The Merit-based Incentive Payment System (MIPS) is a performance-based program where eligible clinicians may earn positive (up to 9%, not including additional positive adjustments for exceptional performance) or negative (up to -9%) payment adjustments for the services they provide to Medicare patients. The 2022 performance year has set the performance threshold to a score of 75 points to earn a neutral payment adjustment for fiscal year 2024 reimbursements.
DrChrono continuously works to stay on top of changes to the MIPS program to ensure your eligible clinicians meet necessary program requirements.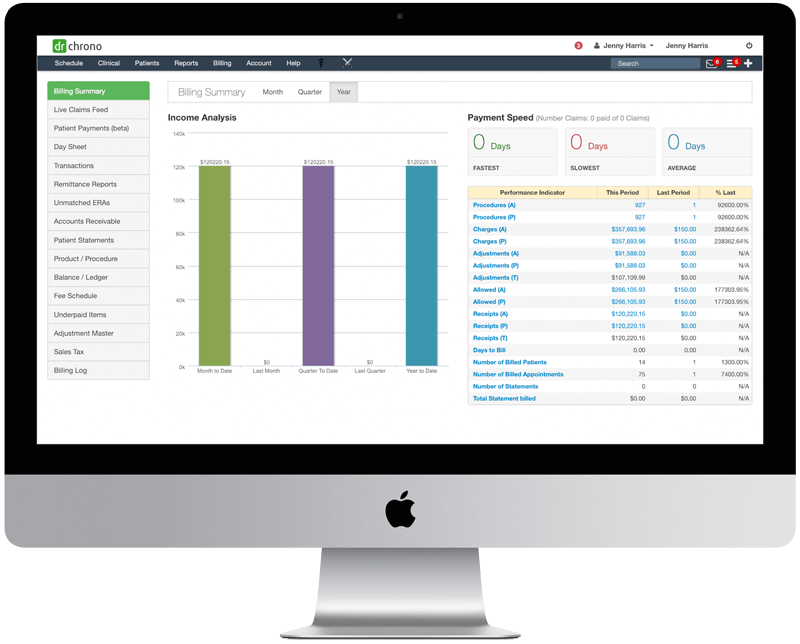 This Health IT Module is 2015 Edition compliant and has been certified by an ONC-ACB in accordance with the applicable certification criteria adopted by the Secretary of Health and Human Services. This certification does not represent an endorsement by the U.S. Department of Health and Human Services.
DrChrono EHR v 11.0 was certified by UL LLC on November 19, 2021. Our EHR Vendor Certification ID is :5.02.05.2897.DRCH.01.02.1.211119
CMS2v6
CMS50v5
CMW68v6
CMS69v5
CMS90v6
CMS122v5
CMS123v5
CMS130v5
CMS131v5
CMS137v5
CMS138v5
CMS156v5
CMS165v5
CMS166v6
170.315(a)(1): Computerized Provider Order Entry (CPOE) - Medications
170.315(a)(2): CPOE - Laboratory
170.315(a)(3): CPOE - Diagnostic Imaging
170.315(a)(4): Drug-Drug, Drug-Allergy Interaction Checks for CPOE
170.315(a)(5): Demographics
170.315(a)(9) - Clinical decision support (CDS)
170.315(a)(12): Family Health History
170.315(a)(14): Implantable Device List
170.315(b)(1) – Transition of care
170.315(b)(2): Clinical Information Reconciliation and Incorporation
170.315(b)(3): Electronic Prescribing
170.315(b)(6) - Data export
170.315(c)(1) - Clinical quality measures –record and export
170.315(c)(2) - Clinical quality measures –import and calculate
170.315(c)(3) - Clinical quality measures —report
170.315(d)(1): Authentication, Access Control, Authorization
170.315(d)(2): Auditable Events and Tamper-Resistance
170.315(d)(3): Audit Report(s)
170.315(d)(4): Amendments
170.315(d)(5): Automatic Access Time-out
170.315(d)(6): Emergency Access
170.315(d)(7): End-User Device Encryption
170.315(d)(8): Integrity
170.315(d)(9): Trusted Connection
170.315(e)(1) - View, download, and transmit to 3rd party
170.315(e)(3): Patient Health Information Capture
170.315(f)(2) - Transmission to public health agencies—syndromic surveillance
170.315(g)(3): Safety-Enhanced Design
170.315(g)(4): Quality Management System
170.315(g)(5): Accessibility-Centered Design
170.315(g)(6): Consolidated CDA Creation
170.315(g)(7): Application Access - Patient Selection
170.315(g)(8) - Application access – data category request
170.315(g)(9) - Application access –all data request
170.315(h)(1) - Direct Project
Leveraged Software & Content:
Surescripts
Updox
ID.me
Appriss Health
Provider Costs:
B1 Transitions of Care
B3 Electronic Prescribing

Prescribers who wish to send controlled substances electronically may need to pay an additional fee depending upon their EHR package.
Prescribers who wish to obtain patient prescription drug monitoring program (PDMP) reports, will pay an annual and monthly fee to our partner Bamboo Health. See the list of supported states or request connection in non-funded states here.

F2 Transmission to Public Health Agencies