EMR, Scheduling & Medical Billing for Gastroenterology
Complete EHR platform you can digest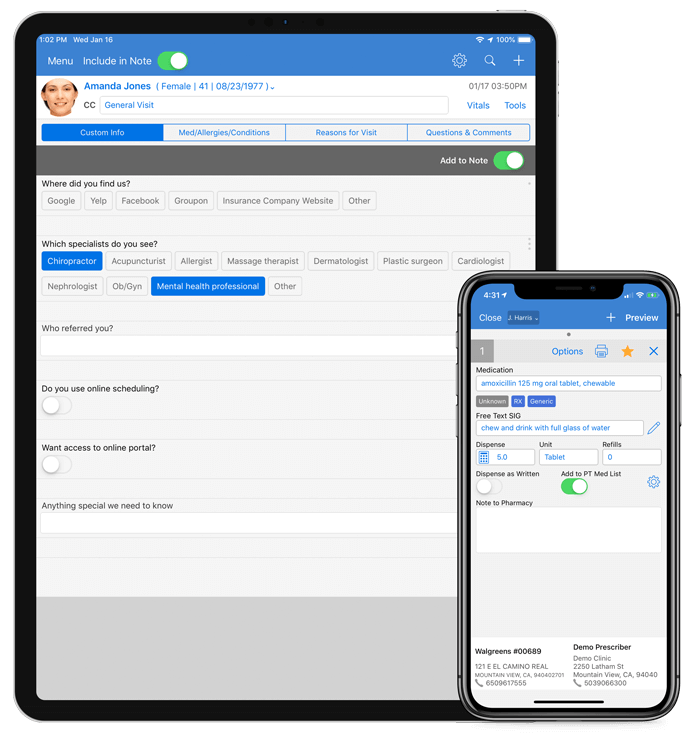 Take the pain out of charting and documentation with EMR customized for gastroenterology and your unique workflow.
Select from a library of gastroenterology templates such as a GI screening questionnaire, H&P CC ABD PAIN, endoscopy, and customize them to fit your needs.
Annotate directly on diagrams or imaging of stomach, intestine, throat, and mouth for quick charting and easier demonstration for patients.
Easily order and access your labs, imaging, notes, and more directly from your EMR.
Send electronic prescriptions for both controlled and non-controlled substances anywhere on iPhone, iPad or web.
Use face-to-face telemedicine to conduct appointments for conditions that require regularly scheduled follow-ups such as Crohn's disease.
Schedule a Demo
Streamline administrative tasks including scheduling, auto reminders, sending follow ups, sharing patient educational information, and more.
Save time on administrative tasks by sending automated appointment reminders via phone, SMS, and email.
Create appointment profiles for different types of appointments such as ostomy exam, and preset billing codes or add predetermined time slots.
Easily check insurance details for deductibles, co-payments, and co-insurance with instant access to insurance companies.
Use online check-in process or self check-in kiosk to allow patients to sign forms and check-in for an appointment with minimal staff engagement.
With HIPAA compliant messaging, send educational information such as dietary restrictions for IBS.
Schedule a Demo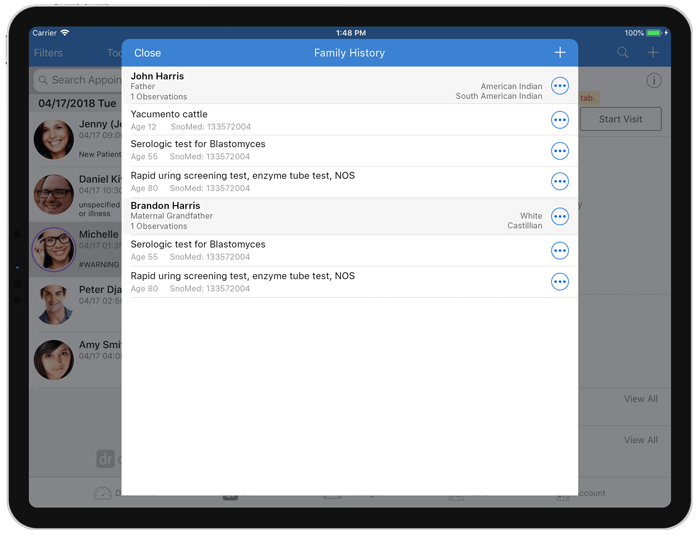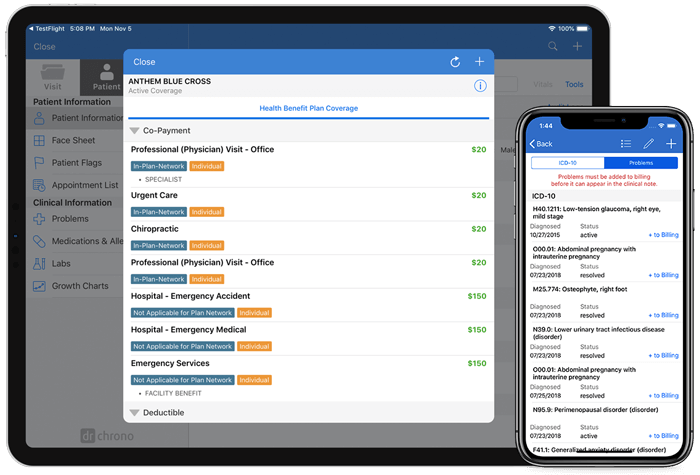 DrChrono stays up to date with medical billing and regulation changes so you don't have to.
Improve payment collection with an end-to-end integrated EHR platform that eliminates multiple data entries and reduces errors.
Save time and improve staff productivity by passing patient billing information directly through the EHR system.
Auto-populate your most commonly used codes into your clinical notes and superbills.
Easily keep track of eligibility and authorization statuses using our real-time eligibility check.
Schedule a Demo
With full Revenue Cycle Management (RCM) service, our billing experts and medical coders take care of your gastroenterology billing needs.
Our certified RCM team will monitor your denial trends and educate your practice on how to prevent denials.
You have access to a team of expert medical coders who apply the proper gastroenterology codes to your clinical notes so you can get paid faster.
Get transparent reporting every month and weekly updates from a certified specialist detailing your collections.
Your dedicated account manager will help your practice optimize billing process and track performance.
Schedule a Demo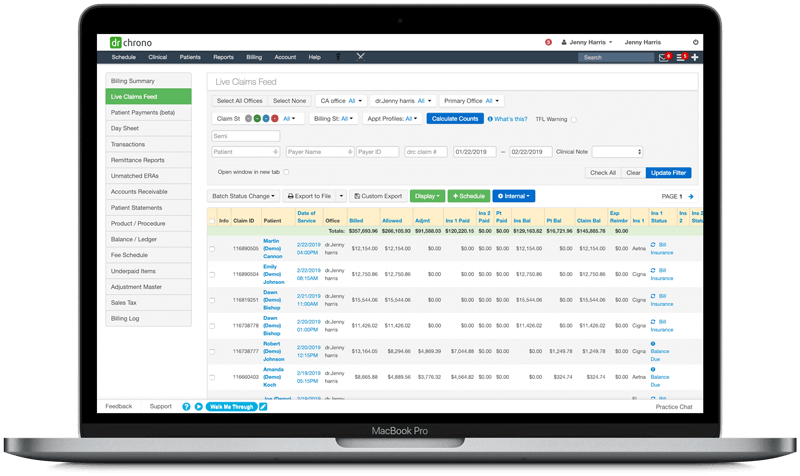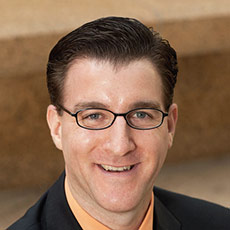 Mark Amols M.D.
---

It's a system that is completely cost effective — your overhead is an iPad. The system is so integrated that you can chart and bill with the touch of a button because the billing is built into the notes. I even use DrChrono's RCM services and we never lose a dollar.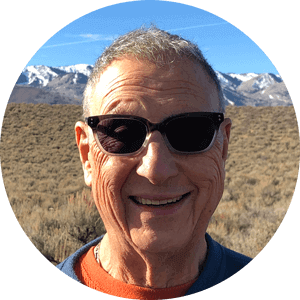 Leon L. Cohen M.D.
---

This is an innovative electronic medical record software. I highly recommend it. DrChrono is very easy to use and to individualize with a great patient portal. They have excellent support and are cost effective. The part I like the most is the iPad and iPhone compatibility. This makes it easy to access anywhere that internet or cell service is available. It's easy for patients to use for demographics.

An Award-Winning Experience
---
Top Resources for Gastroenterology
---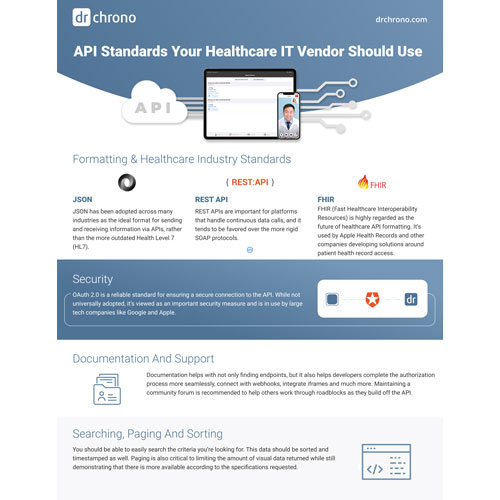 Gastroenterology with Complete Mobility
API standards Your Healthcare IT Vendor Should Have.
Learn More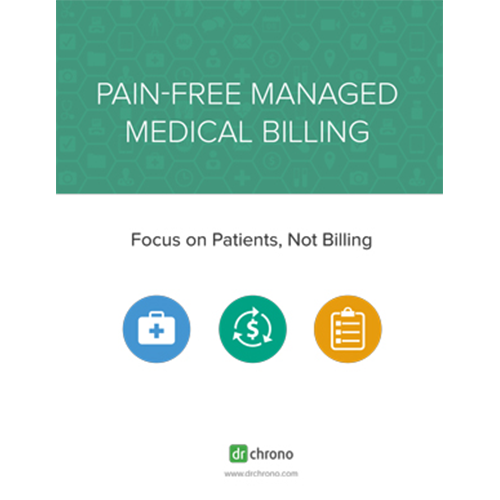 Managed Medical Billing Whitepaper
See how end-to-end billing management helps gastroenterology providers focus on patients care.
Learn More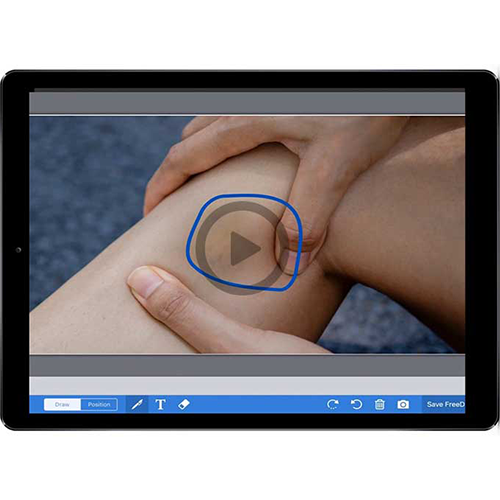 Custom Medical Forms
Streamline your existing workflows with custom forms built for your practice. Plus, see how to free draw on images.
Learn More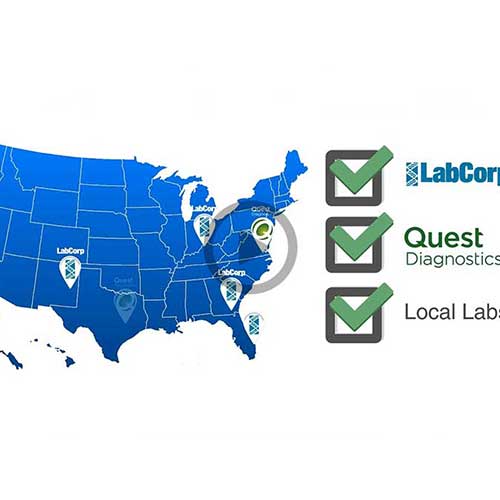 Lab-Integrations
Upload and view lab results on any device as soon as they're completed.
Learn More
Ready to transform your practice?
Request a product demo with an EHR Specialist today!
Request a Free Demo