Complete EHR System Built to Work Seamlessly for Chiropractors
Optimize patient care and practice efficiency while maximizing profit.
Why Chiropractors Love DrChrono
---
Efficiency
Integrated EHR and medical billing software eliminates double entry and human error. Save time by documenting everything wherever you are on iPhone, iPad or computer.
Advanced Functionality
You can speed up charting with customizable chiropractic forms and photo/drawing options in addition to a full suite of patient scheduling tools.

Low Learning Curve
Simplicity and intuitive design makes learning to use DrChrono really easy. Step-by-step in page tools and a dedicated support team will also guide you to use more complex tools.
Streamlined Practice Management
Easily manage bundled or membership based care using appointment profiles created for each patient.
Simply drag and drop appointments for rescheduling, or allow patients to update their schedule using OnPatient Portal without needing to call the front desk.
Let patients complete consent and intake forms using OnPatient Portal before the appointment or Patient Check-in App on iPad in the clinic.
Reduce no shows by automatically sending appointment reminders via text, voice messages and emails.
Schedule a Demo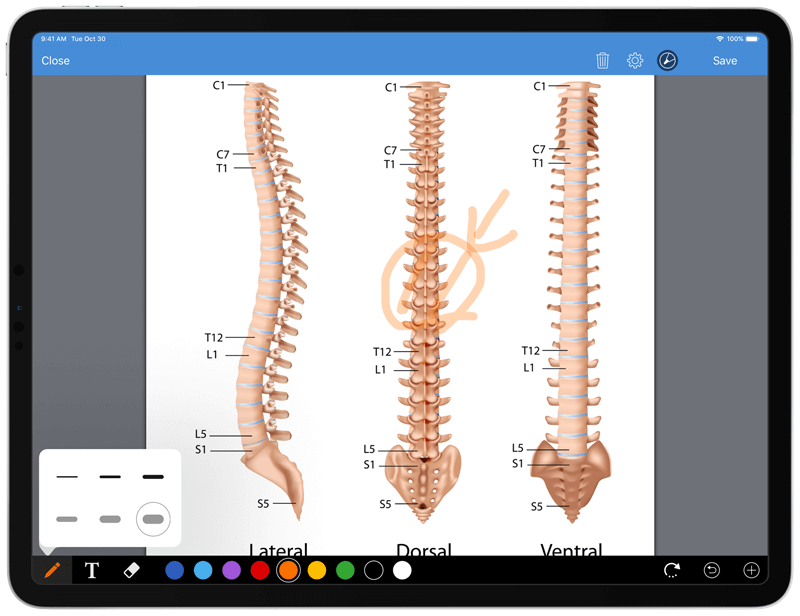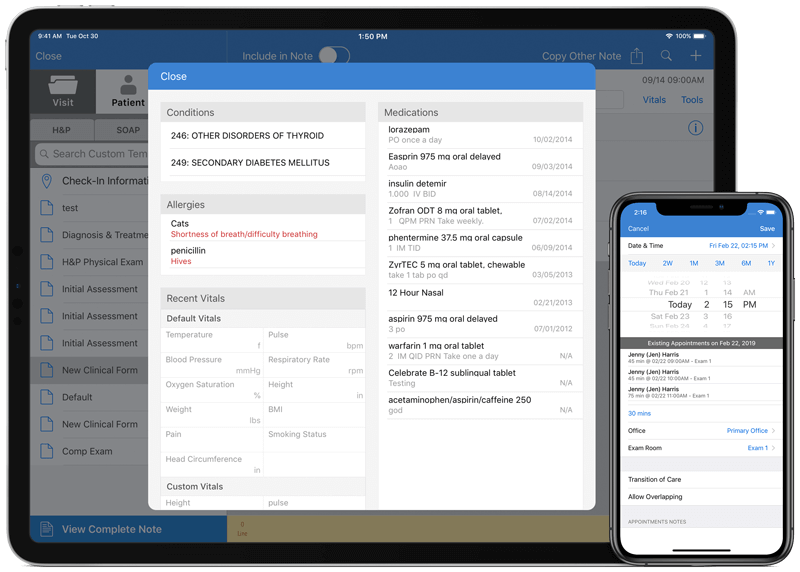 Quick Charting From Start to Finish
Use prebuilt chiropractic forms from MSK to HEENT assessments, and customize them to include valuable information such as pain location, duration and other details.
Easily communicate treatments to your patients by drawing directly on radiographs or skeletal diagrams and embedding them directly into your SOAP note.
View prior evaluations using persistent forms and re-evaluate within the same screen.
Easily track ongoing treatments, create care plans and exercise programs for patients when they're not in the office.
Schedule a Demo
Better Billing, Faster Payments
Submit claims quickly and easily straight from DrChrono's EHR for insurance, worker's comp and more.
Cut additional lab and clearinghouse costs with our centralized integrated billing solution, which includes a live reporting dashboard for live claims data to get back everything you're owed.
Send or print Superbills with just one click for uninsurables, and easily code for common diagnoses using billing profiles.
Patient flags allow you to categorize patients by their health plans (ASHP, ACN, etc), or payment methods (cash based vs insurable) to help you bulk claim.
Schedule a Demo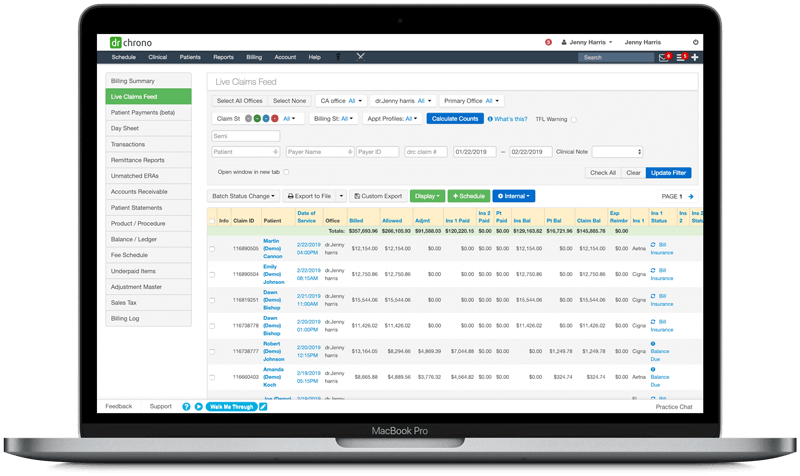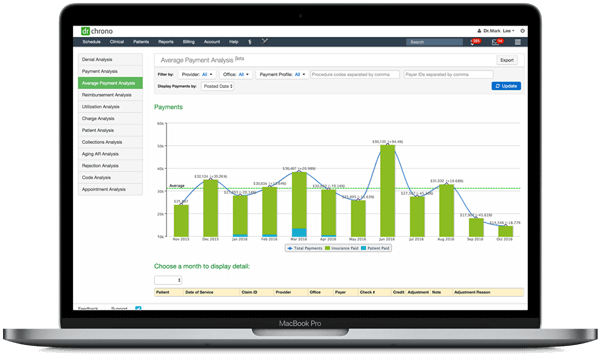 Maximize Revenue Collection
Verify insurance and procedure eligibility in real time.
Get denial claims addressed within 24 hours and expedite the payment process.
Communicate directly with Revenue Collection experts and an experienced medical billing team.
Make better data-driven decisions with complete transparency into your practice's financial status.
Schedule a Demo
Exercise Prescription and Outcome Tracking
Use thousands of peer-reviewed exercises and activities in areas such as Orthopaedics, Neurology, Pediatrics, Cardiology and Women's Health.
Excel in chronic condition and population health management using real-time outcomes tracking.
Constant connection and engagement, to patients or clients, is also available through telehealth services and secure communication portals. Increase face to face time without the need to be in the same room.
Scale and automate the prescription and delivery of care plans.
Schedule a Demo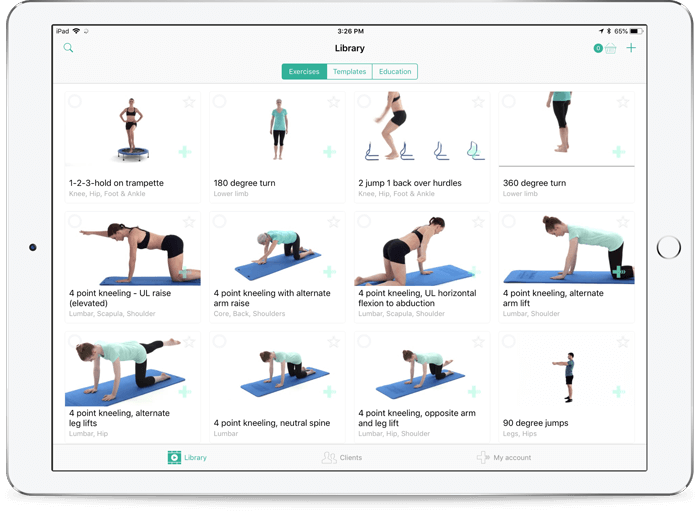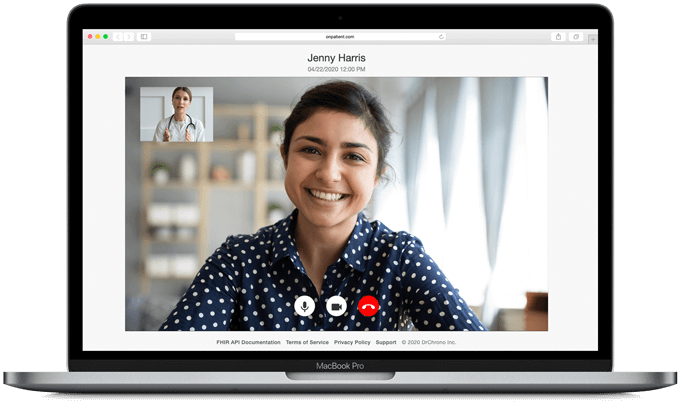 Conduct Video Visits
Schedule and conduct visits directly from your EHR platform without additional downloads or integrations.
Let patients schedule their own in-person or video visits from their patient portal.
Patients have the option to receive a link to their virtual visit without any set-up required on their end.
Quickly and easily schedule a new telemedicine visit, or convert an existing in-person visit to a Video Visit with one click.
After scheduling a Video Visit through DrChrono's telemedicine platform, allow patients to sign forms and fill out background questions.
Schedule a Call
An Award-Winning Experience
---
Top Features Used by Chiropractors
---
Fully Customizable Patient Scheduling Tools
Have patients schedule for an appointment anyway you want. Upload a website widget, use a patient portal, access your mobile EHR app on the go, and/or use Zocdoc or other 3rd party scheduling services.
SEE A QUICK DEMO
Check-in Kiosk and native iPad app
Patients can walk in and check themselves in on a kiosk or you can hand them an iPad just like a clipboard. You can even have patients check in from home.
Message other providers and patients directly
Manage all patient communication in a HIPAA compliant patient portal and message other doctors regardless of their EHR through DrChrono. You can also use the practice chat tool to message anyone in the practice.
SEE A QUICK DEMO
Form/Template Library
Access a full library of chiropractic templates for any chiropractic technique, like Activator, Gonstead, etc. and in any format like SOAP, Auto Accident, and Workers Compensation Claims.
SEE A QUICK DEMO
Photo, Video, and Drawing Tools
Use the camera on your mobile device to record and annotate photos or diagrams and add videos quickly to the patient file.
SEE A QUICK DEMO
Fast Medical Claim Submission
Increase Cash Flow in your practice with an easy to use interface and a suite of tools and reports used by DrChrono coders and billers.
SEE A QUICK DEMO
Super easy e-fax and direct messaging
Manage patient referrals in-and-out using either the extremely easy e-fax tool or submit electronically from EHR to EHR.
SEE A QUICK DEMO
Integrated Payments with DrChrono
Streamline your payment workflow, simplify record-keeping and accept payments anytime, anywhere! With DrChrono Payments, we make it easier for you to interact with patients in the methods they prefer.
Revenue Cycle Management (RCM) Services
With direct access to a dedicated account manager and full transparency on the status of your claims, you can turn your focus towards your patients.
Want to Additional Resources
---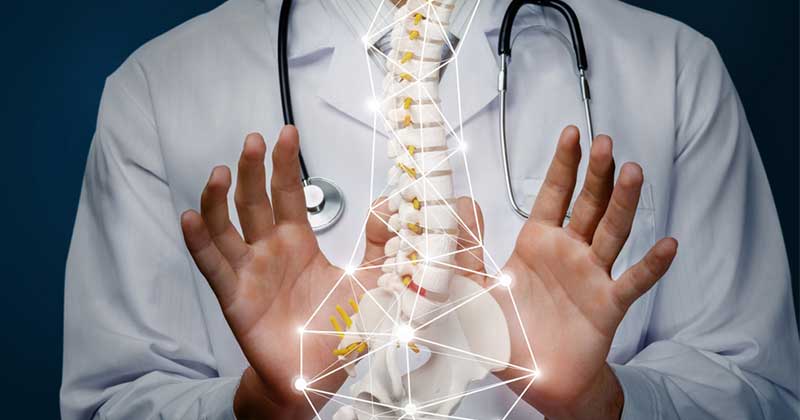 How to Start a Chiropractic Clinic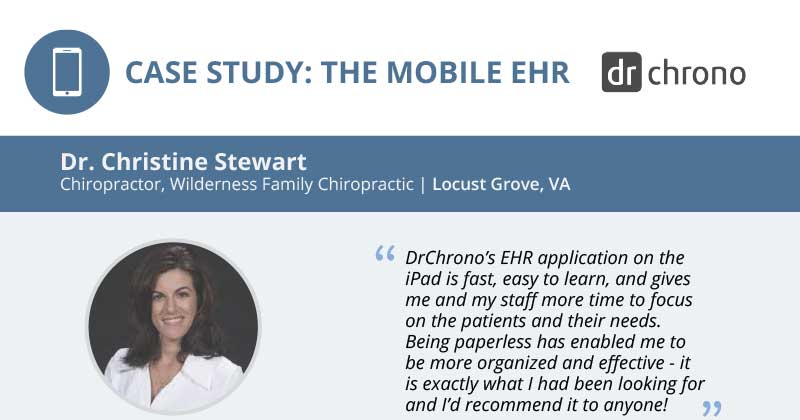 CASE STUDY: THE MOBILE EHR
Ready to transform your practice?
Request a product demo with an EHR Specialist today!
Request a Free Demo