DrChrono for ASC - Operate Seamlessly Between Practices and Surgery Centers
All-in-One Scheduling, EHR & Medical Billing Platform for ASCs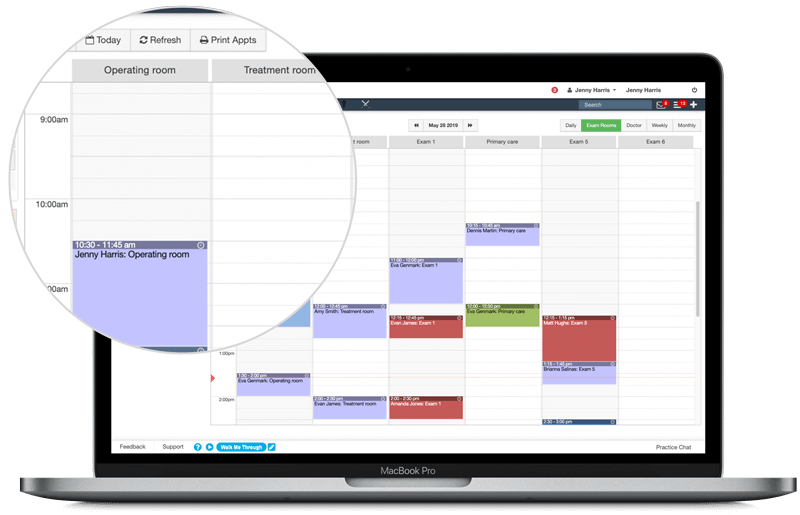 Managing ASC as Easy as Same-Day Surgery for Patients
Seamlessly schedule patient appointments for physician office visits and surgeries for the surgery centers with one simple app.
Assign multiple rooms at each office location to designate operating rooms, treatment rooms, recovery rooms, and physician offices.
Easily monitor and maintain supplies used during surgeries as well as supplies purchased by patients post-surgery.
Utilize Meaningful Use (MU) ready and HIPAA compliant access to patient data and communication anywhere.
Schedule a Demo
Seamless Charting for Office Visits to Surgery Center
Convenient charting - use the same EHR and patient charts for physician office visits and surgery center procedures including vitals, medication history, SOAP and operation documentation.
Allow multiple providers to view patient information concurrently and chart in one single patient chart to eliminate interoperability issues.
Easily view all clinical, surgical, and radiology data in one patient chart.
Create or utilize our pre/intra/post-operation procedural templates to include information that fits your specific workflow.
Record procedural videos right from your iPad, or take before and after photos that automatically embed directly into the chart.
Sign and lock charts with a single button. For any last minute changes, simply append, re-sign and lock with just a few clicks.
Report and graph vitals over time to easily identify fit-for-discharge status from post-anesthetic care.
Schedule a Demo
Secure Financial Health for Your ASC with DrChrono Revenue Cycle Management Service
Leverage a virtual back office with certified coders to optimize revenue collection so you can focus on patient care.
Management of claims from patient office visits to your onsite outpatient surgery center, seamlessly ensuring successful clearinghouse enrollment and high clean claim rates.
Separate claim status by type: "Institutional" or "Professional" Claims, and utilize our billing tools to assist with UB04 claims.
Identify cash flow, net A/R, and working capital easily for any number of operating rooms to manage inventory and revenue easily.
Gain greater insight on operational expenses including disposable costs from surgeries that can help you make informed decisions for future purchases.
Have complete insight and transparency into every step of the claim process from submission to disbursement to your accounts.
Get denial claims addressed within 48 hours and expedite the payment process.
Dedicated Account Manager - Access regularly scheduled calls with your Account Manager and receive account reviews and personalized support.
Schedule a Demo
An Award-Winning Experience
---
Ready to transform your practice?
Request a product demo with an EHR Specialist today!
Request a Free Demo