DrChrono Psychiatry EHR & Medical Billing
Innovative mental health care at your fingertips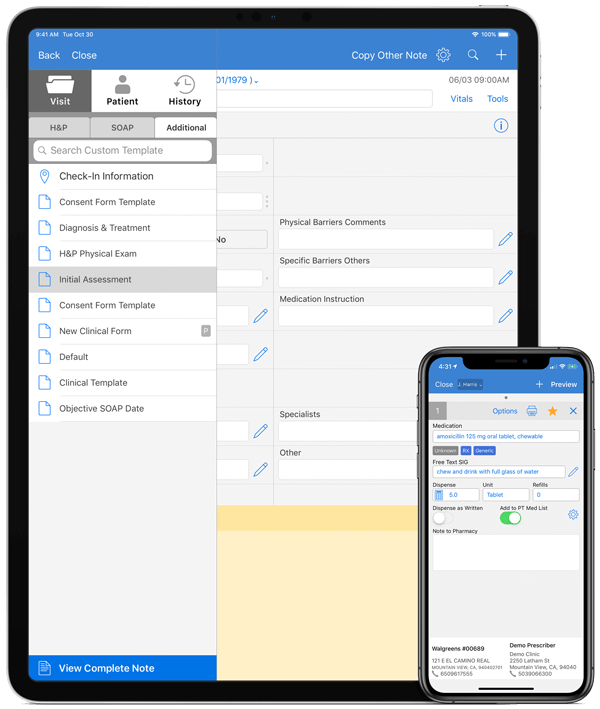 Provide Care. Anywhere.
Give patients your undivided attention with advanced charting capability.
Utilize pre-built behavioral health forms that include PHQ-9 questionnaires, bio-psycho-social assessments forms, MSE findings forms as well as GAFs associated with your subspecialty, or build your own forms exactly how you like them.
Spend more time focusing on building patient relationships by streamlining charting with medical speech-to-text, Chart by Voice, or pre-programmed macro buttons that plug in entire phrases or paragraphs.
E-prescribe antidepressants, antipsychotic medications, sedatives and anxiolytics, mood stimulants, and more, from anywhere to get your patients the medication they need, when they need it.
Easily access and use patients medication history to securely order refills.
Flag patient attributes, including their temperament or medication history so you can provide the best care even after not seeing them for some time.
Schedule a Demo
Conduct Video Visits
Schedule and conduct visits directly from your EHR platform without additional downloads or integrations.
Let patients schedule their own in-person or video visits from their patient portal.
Patients have the option to receive a link to their virtual visit without any set-up required on their end.
Quickly and easily schedule a new telemedicine visit, or convert an existing in-person visit to a Video Visit with one click.
After scheduling a Video Visit through DrChrono's telemedicine platform, allow patients to sign forms and fill out background questions.
Schedule a Call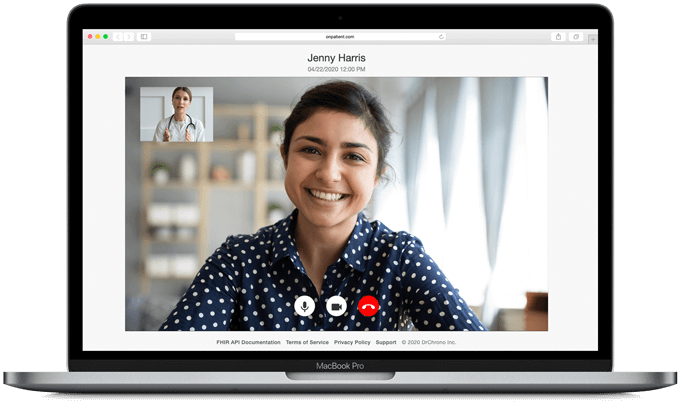 Run a Patient First Practice
Streamline administrative tasks and improve patient encounters.
Allow patients to sign and submit all forms and insurance information online before the appointment or via the Mobile Check-in App.
Allow patients to fill out necessary forms before getting to the appointment to help you better understand, assess, and care for your patients' behavioral health condition.
Reduce no shows and keep patients on track with their treatments using automated appointment reminders.
Reach patients unable to visit the office with secure HIPAA compliant messaging and face-to-face telemedicine for any off-site appointments.
Use appointment profiles to quickly schedule different appointment types and lengths.
Schedule a Demo
Medical Billing Compatibility to DSM-5 Coding
Improve data accuracy and productivity with integrated practice management, EMR and billing platform.
Eliminate multiple data entries or errors - enter information once and have data pass throughout our seamlessly integrated system.
Use Billing Profiles to bundle codes for common diagnoses such as depression or ADHD, ensuring accuracy and efficiency.
Auto-populate billing codes directly into your psychiatry notes and superbills, full compatibility with DSM-5 coding so you get paid what you deserve.
Utilize our real-time eligibility verification to keep track of claims submitted and their status with the clearinghouse and insurance companies - to make sure you receive the proper reimbursement for common psychiatric procedures.
Make billing more efficient with our bulk claims, live claims feed, and a reporting dashboard.
Schedule a Demo
Full-Service Revenue Cycle Management (RCM)
Let our billing experts manage your billing so you can focus on patient care.
Improve clean claim rates with billing profiles that automatically populate codes and modifiers to your claims.
48 hours turnaround on denials with additional education to make sure highest reimbursement is achieved.
Let our experienced medical coders curb loss of revenue by reviewing your psychiatry notes and applying the proper codes.
Receive dedicated support from a team of revenue collection experts and medical billing specialists focused on optimizing clean claim rate, collections, and payments for your practice.
Stay up to date with your practice's performance through reports and updates from your RCM team.
Schedule a Demo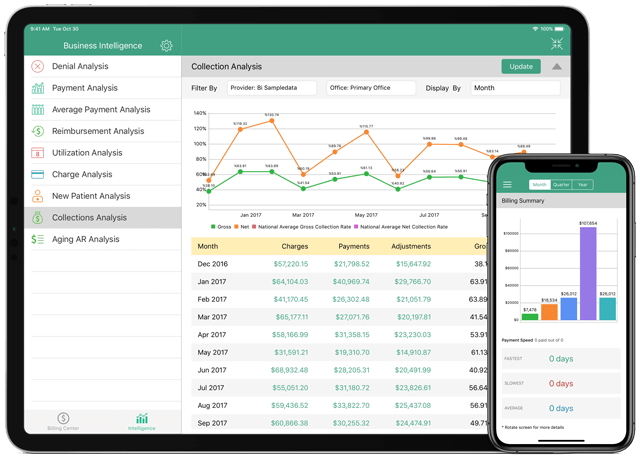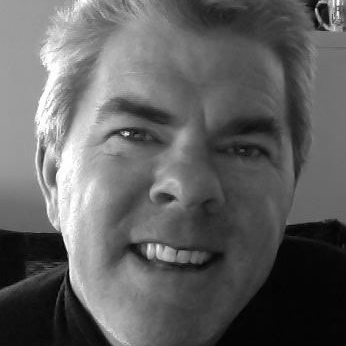 Brian O'Neill PMHNP-BC
---
Beartooth Brianworks

DrChrono enables me to run my solo psychiatric practice both efficiently and profitably. I can change, what I want, when I want and it is easy. They take care of my billing and credentialing process so all I have to do is see patients. I have experienced only good customer service and support. When other practitioners complain about their systems I just laugh because an EHR can be functional, affordable, easy to use and customer service can be receptive to your needs.

An Award-Winning Experience
---
Top Resources for Psychiatry
---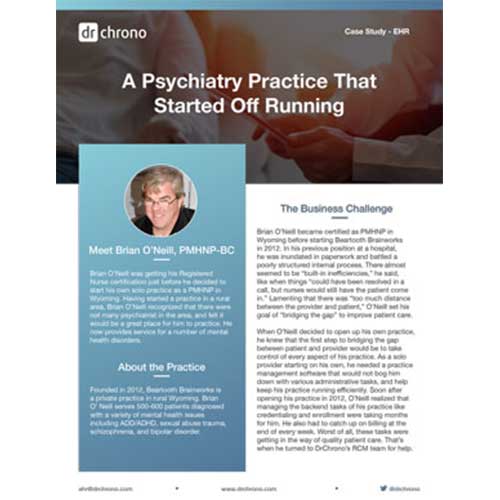 All Around Higher Quality Care
Learn more about a Psychiatry practice that started off running with DrChrono's EHR and how it changed the way they cared for their patients
Learn More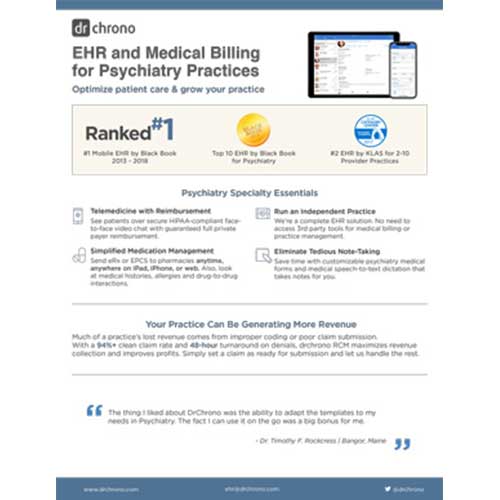 EHR and Medical Billing Tools for Psychiatrist
See why Psychiatrists love DrChrono EHR and how we can help grow your practice today.
Learn More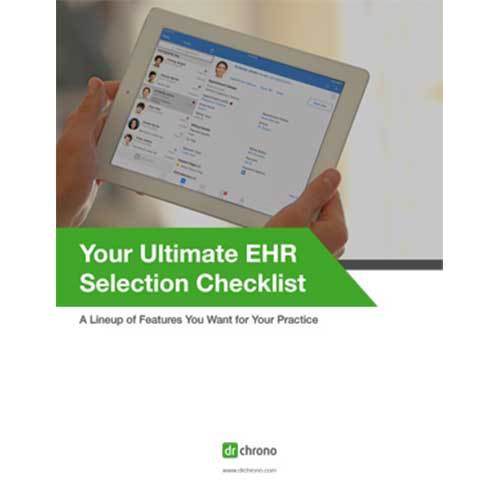 Ultimate EHR Checklist Whitepaper
Use this checklist to understand EHR functionalities vital to managing your medical practice.
Learn More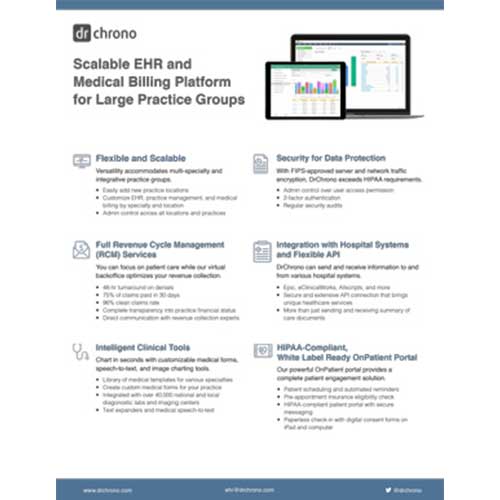 Scaleable EHR and Medical Billing Whitepaper
Use DrChrono to scale your practice. Using our EHR and medical billing software will give you the flexibility and tools to grow.
Learn More
Ready to transform your practice?
Request a product demo with an EHR Specialist today!
Request a Free Demo