DrChrono EHR, PM, and Billing Platform for Physical Therapy Practices
Mobile EHR built for active Physical Therapists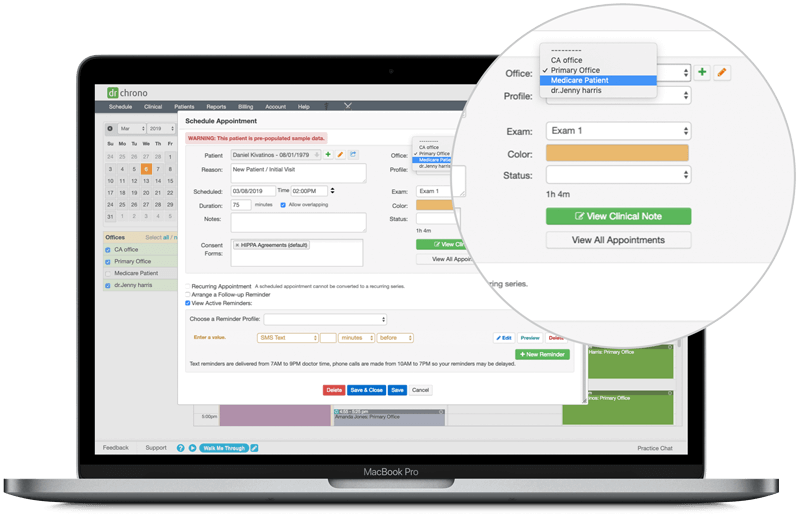 Easy, Fast & Efficient Practice Management
Use appointment and billing profiles to save time and ensure treatments and medical billing are processed accurately.
Reduce missed appointments and no-shows with online scheduling and automated appointment reminders via text, phone and email.
Schedule physical therapy appointments by different visit types, including lien patients, medicare patients, or cash based patients.
Easily send or receive referrals, lab and imaging orders and faxes directly on the EHR system.
Minimize paperwork and other administrative tasks by having patients complete digital consent and intake forms online before the appointment. They can also use the Patient Check-in App on iPad in the clinic.
Schedule a Demo
Convenient Clinical Features Built for Physical Therapy
Work side by side with your patient during exercises with DrChrono's mobile EHR app on iPad, giving them the attention they need for a speedy recovery.
Use any of our prebuilt physical therapy forms or create custom forms to include any data important to you, including range of motion, pain severity and more.
Save charting time and provide clear information with text expanding "macros" and direct photo/image drawing.
Provide patients with digital care materials and take home physical therapy programs that can be tracked and assessed for follow up at the next appointment.
Use secure video conferencing (or telemedicine features) to deliver assessments and care to patients anytime anywhere.
Schedule a Demo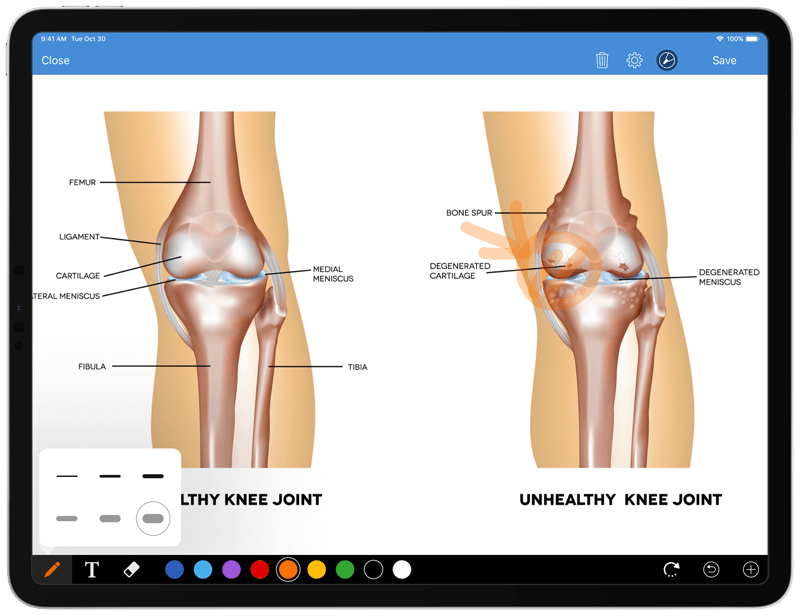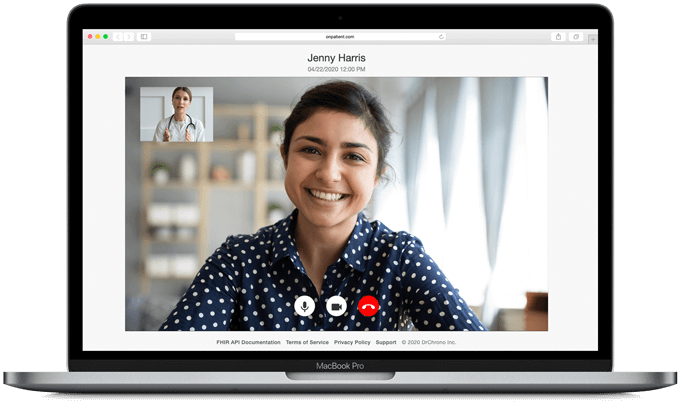 Conduct Video Visits
Schedule and conduct physical therapy appointments directly from your EHR platform without any additional downloads or integrations.
Let patients schedule their own in-person or video visits from their patient portal.
Patients have the option to receive a link to their virtual visit without any set-up required on their end.
Quickly and easily schedule a new telemedicine visit, or convert an existing in-person visit to a Video Visit with one click.
After scheduling a Video Visit through DrChrono's telemedicine platform, allow patients to sign forms and fill out background questions.
Utilize our quick charting feature on iPad or iPhone to access your patient's clinical notes during a video visit without having to leave the appointment.
Schedule a Call
Gain Transparency and Efficiency in Billing
Process workers comp claims with ease using DrChrono's integrated billing, and stay up to date with region specific laws for clean medical billing.
Track status changes of independent claims through the entire process, from coding to posting.
Easily correct coding errors to reduce rejections or denials before filing, enabling faster claims processes.
With billing analytics see how much you're owed, how much you're due, or what hasn't been posted and much more, making medical billing extremely transparent and easy.
Schedule a Demo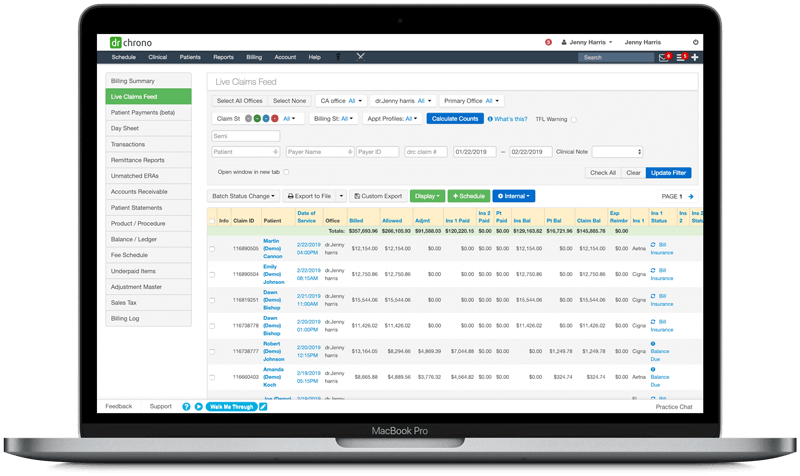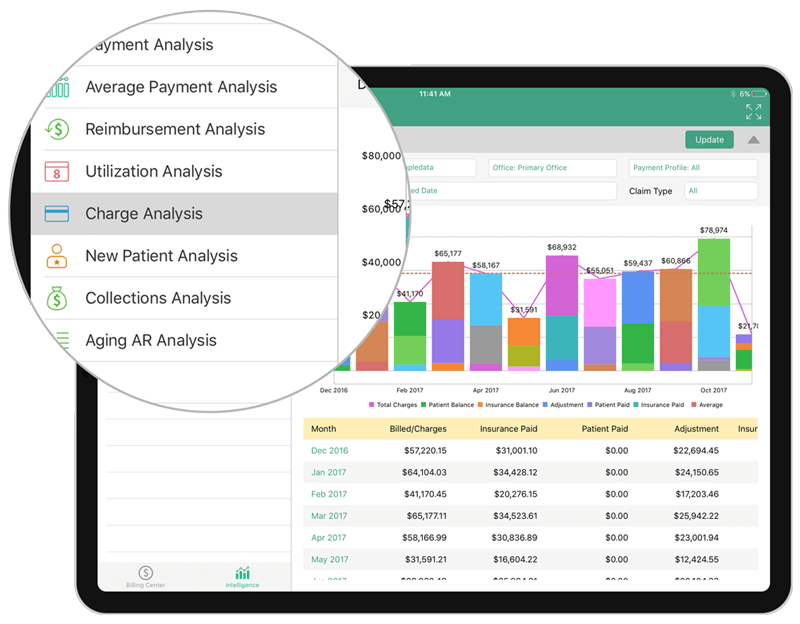 Revenue Cycle Management with Coding Service
Utilize our revenue cycle management (RCM) team to keep ahead of sudden changes in an ever changing regulatory landscape, ensuring that money owed is money paid.
Dedicated Account Manager: Every RCM account gets a live, dedicated account manager that can be contacted whenever you have questions or need help.
Rejection Analysis and Resolution: All rejections are worked by our expert billers and submitted within 48 hours.
Coding Service: Take advantage of DrChrono's certified coders who advise and correct your coding to ensure a high clean claim rate.
Schedule a Demo
Exercise Prescription and Outcome Tracking
Use thousands of peer-reviewed exercises and activities in areas such as Orthopaedics, Neurology, Pediatrics, Cardiology and Women's Health.
Excel in chronic condition and population health management using real-time outcomes tracking.
Constant connection and engagement, to patients or clients, is also available through telehealth services and secure communication portals. Increase face to face time without the need to be in the same room.
Scale and automate the prescription and delivery of physical therapy care plans.
Schedule a Demo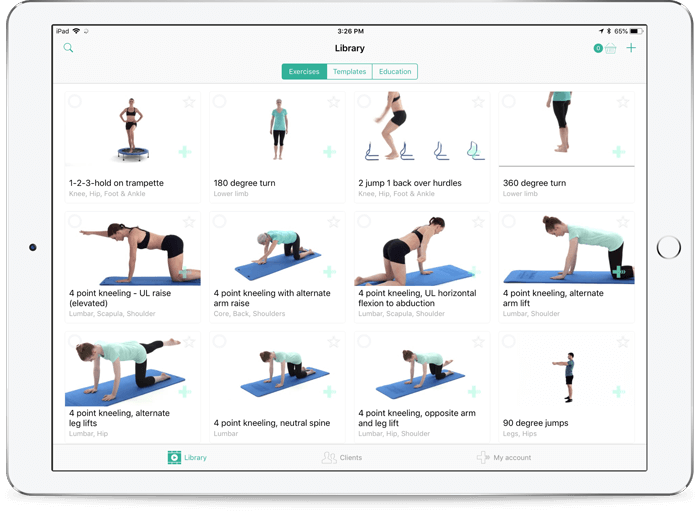 Features Loved by DrChrono Physical Therapists
Check in Kiosk and Native iPad App
Evaluate your patients with custom intake forms right when they check in. Stay mobile and work side by side with your patients through exercises by using DrChrono EHR on your iPad.
Automated Reminders - Email, Text & Phone
Easily engage your patients to keep them ontrack for recovery.
SEE A QUICK DEMO
PT Forms/Template Library
Use preset templates made by other DrChrono PTs or customize any forms to your charting needs with drag and drop functionality.
SEE A QUICK DEMO
Photo and Video Drawing Tools
Take pre/post program photos and annotate directly on them. Illustrate exercises easily by recording videos of the patient.
SEE A QUICK DEMO
Fast Medical Claim Submissions
Utilize clearinghouses specialized in workers comp and other physical therapy specific claims to process claims quickly and receive payments fast.
onpatient Patient Portal
Prescribe patient education materials and home exercise programs that can be referenced right from the patient portal on iPad, iPhone or computer. Track outcome assessments for follow-up appointment.
SEE A QUICK DEMO
An Award-Winning Experience
---
Ready to transform your practice?
Request a product demo with an EHR Specialist today!
Request a Free Demo