Innovative & Adaptable EHR for Orthopedic and Sports Medicine
Optimize patient care & practice efficacy
Streamline Your Orthopedic Practice with All-in-One Integrated EHR
End-to-end practice management solution that seamlessly integrates patient engagement, scheduling, clinical workflows and medical billing.
Access a beautifully designed, color-coded schedule with your patient's entire health history at your fingertips.
Access patient health records, billing balances and transaction history in one cloud-based solution.
Stop double-entry and auto-populate your patient information to clinical charts, e-prescriptions, lab orders and medical claims.
Schedule a Demo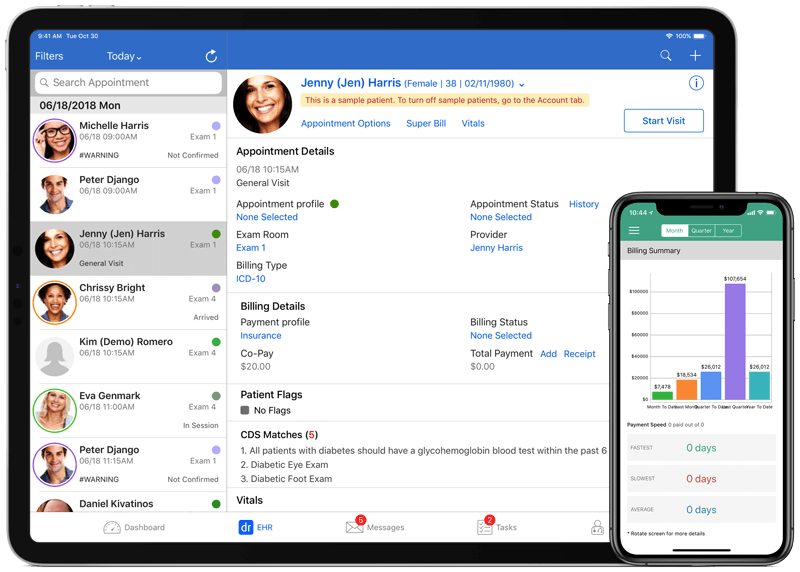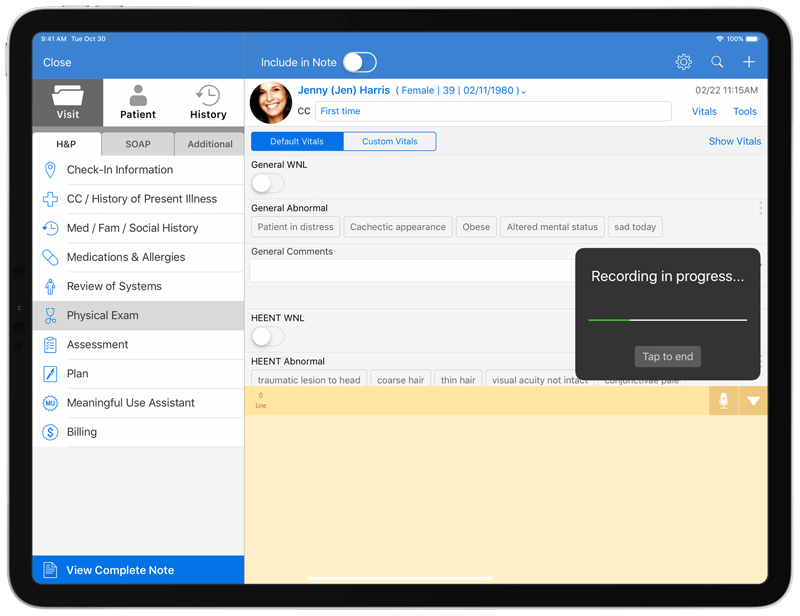 Increase Productivity with Intelligent Clinical Tools
Chart quickly with customized medical forms, medical speech-to-text dictation and orthopedic surgery specific templates.
Precisely record injured areas with Free Draw, a tool that allows you to draw directly on any diagram, including X-ray images.
Order diagnostic tests such as X-rays or an MRI directly from your iPad; the results will directly appear in your EHR.
Prescribe medications including controlled substances (EPCS) and order lab work directly from your EHR.
Schedule a Demo
Empower Patient Engagement & Education
Save time with paperless patient check-in and information collection.
Send automated texts and email reminders, and verify insurance and procedure eligibility in real time or pre-appointment.
Allow patients to request new appointments, communicate with healthcare providers, and pay bills through our secure HIPAA compliant patient portal.
Provide pre- and post-surgical instruction, as well as preventive and general education on injury or orthopedic surgery procedures directly to patients.
Send and receive summary of care documents from other practices, and provide customized patient education materials straight from the EHR.
Schedule a Demo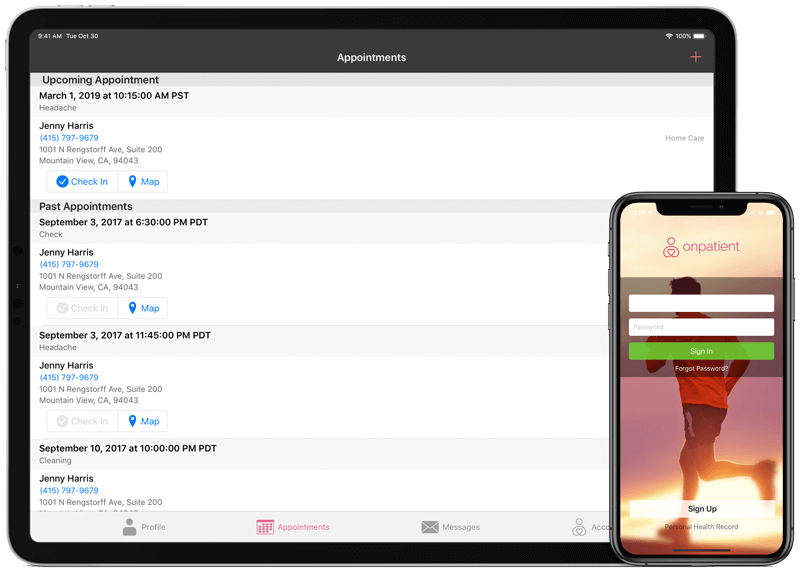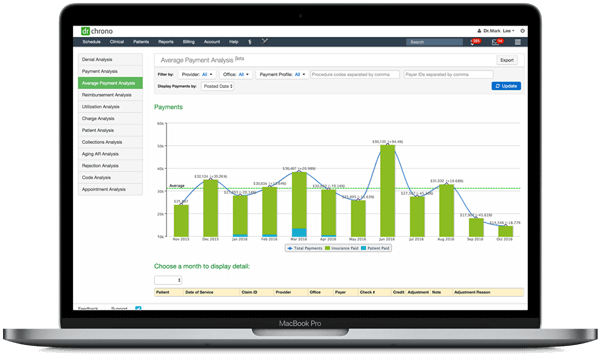 Maximize Revenue Collection with RCM
Optimize patient experience with clean claims and timely medical statements.
Denial claims addressed within 24 hours to expedite the payment process.
Direct communication with revenue collection experts and our team trained to handle orthopedic medical billing and coding.
Complete transparency into practice financial status.
Schedule a Demo
Exercise Prescription and Outcome Tracking
Use thousands of peer-reviewed exercises and activities in areas such as Orthopaedics, Neurology, Pediatrics, Cardiology and Women's Health.
Excel in chronic condition and population health management using real-time outcomes tracking.
Constant connection and engagement, to patients or clients, is also available through telehealth services and secure communication portals. Increase face to face time without the need to be in the same room.
Scale and automate the prescription and delivery of care plans.
Schedule a Demo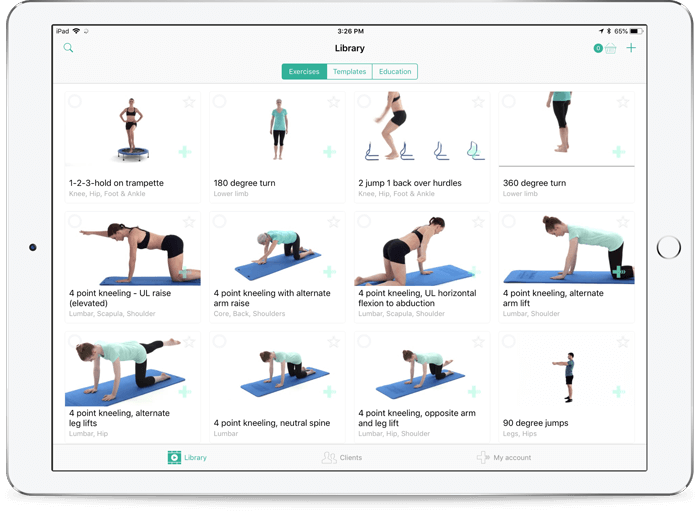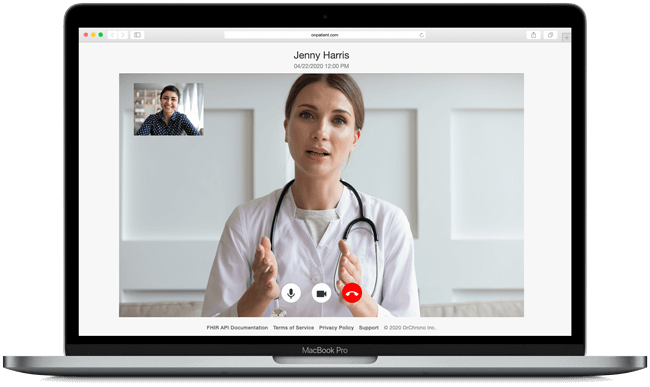 Conduct Video Visits
Schedule and conduct visits directly from your EHR platform without additional downloads or integrations.
Let patients schedule their own in-person or video visits from their patient portal.
Patients have the option to receive a link to their virtual visit without any set-up required on their end.
Quickly and easily schedule a new telemedicine visit, or convert an existing in-person visit to a Video Visit with one click.
After scheduling a Video Visit through DrChrono's telemedicine platform, allow patients to sign forms and fill out background questions.
Schedule a Call
9 Features Loved by Orthopedics/Sport Medicine Practitioners
---
Customizable, Smart Templates
Choose from our library of pre-built templates, or our team can help create evaluation, patient in-take, pain reporting, and preoperative forms…
SEE A QUICK DEMO
Optimized for Ambulatory Surgical Centers (ASC)
With the native iPad and iPhone applications as well as an award winning mobile platform, there is a seamless workflow between ASC and your office.
Clinical Photos on iPad and iPhone
Take HIPAA compliant high-resolution photos on iPad or iPhone. Draw, annotate, and more on your clinical notes.
SEE A QUICK DEMO
Order Lab on the EHR App
Local lab interface within your workflow for orders and results to include in your clinical notes. We currently support 9,000 plus diagnostic labs and 35,000 plus radiology centers through our partnership with Health Gorilla's Secure Clinical Network.
SEE A QUICK DEMO
e-Prescribe/EPCS
Order medications during patient exam and send prescriptions directly from iPhone, iPad or computer…
SEE A QUICK DEMO
Patient Portal
Send patient education materials such as surgery instructions and stay connected via a secure HIPAA compliant portal.
SEE A QUICK DEMO
Free Draw
Upload X-ray images and draw or annotate directly on it. You'll be able to upload it directly into your clinical notes…
SEE A QUICK DEMO
Lab Accessibility
Order lab work from 9,000+ diagnostic labs and 35,000+ radiology centers, and receive the results directly in your EHR.
SEE A QUICK DEMO
Fast Medical Claim Submission
Easily check insurance eligibility and automatically populate ICD-10 and CPT codes. Make claim submission and follow-up easy.
SEE A QUICK DEMO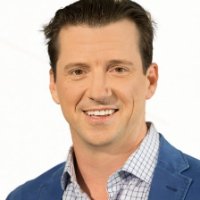 Dr.Timothy Davis
---
Orthopedic Pain Specialists

I think about what my doctors and what my patients are going to be looking at. I've gone through 5 different EHRs over the course of my 30+ years of experience, and with DrChrono, I have a solution for my entire practice and I know I have the best software for my practice.

An Award-Winning Experience
---
Ready to transform your practice?
Request a product demo with an EHR Specialist today!
Request a Free Demo