Best-In-Class EHR Designed for Ophthalmologists
See the difference with the #1 Mobile EHR and revolutionize your ophthalmology practice
How DrChrono EHR Helps Your Ophthalmology Practice
Efficiency
Our cloud based system is available 24/7 and makes your practice more efficient and more effective. You can work from any location and know that everyone can see the information immediately without unnecessary emails or sticky notes.
Customized for Patient Types
DrChrono is completely flexible to fit your practice needs. Set up a hybrid system that allows accuracy across all types of patients and procedures. Whether your patients need an elective, outside insurance refractive surgery or medically necessary surgical procedures, DrChrono EHR can be configured to meet your needs.
High Appointment Fill Rate
Integrated scheduling system between your website and DrChrono shows real-time appointment openings and surgeons' availability. Patients then are able to easily schedule their appointments, saving them time and effort.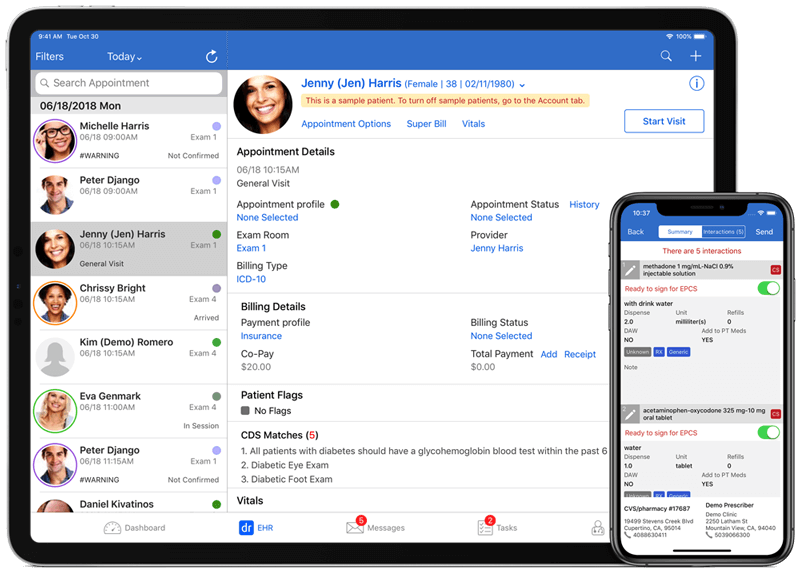 Practice Management with High Productivity
Top-of-the-line, end-to-end system integrates scheduling to billing, and everything in between. DrChrono offers the most customizable workflow on the market, improving productivity and reducing human error.
Online registration reduces wait time and allows new patients to complete forms before even setting foot in your office.
Full suite of patient scheduling and auto reminder tools: website widget, patient portal scheduler, mobile app, Zocdoc, and other 3rd party scheduling services. Keep your practice running on schedule with automated patient reminders across phone, text, and email.
Schedule a Demo
Ophthalmology EHR Made Easy
Pre-built Ophthalmology forms from initial evaluation and eye tests to SOAP, screening, and more.
Import your own diagrams, clinical photos, and more directly to a patient's file.
Step away from the clunky computer and make your patient encounters what they should be - personal - with iPad and iPhone charting.
Schedule a Demo
Dynamic Specialty Clinical Tools
Chart more easily than ever with fully customizable medical forms, state-of-the-art medical speech-to-text, and drawing tools.
Prescribe regular and controlled substances, order labs and imaging, and share with patients anytime and anywhere via iPad and iPhone.
Receive HIPAA-compliant daily agendas on your mobile device with each patient's information; patient details are available on one scrollable screen.
Schedule a Demo
Maximize Revenue Collection with RCM
Focus on patient care and leverage a virtual back office to optimize your revenue collection. Our team is fluent with hundreds of Ophthalmology codes and are knowledgable in best practices for your specialty
Seamless claims submission is built into the patient encounter, making coding easier and quicker than ever.
Full transparency into practice financial status and trends.
Schedule a Demo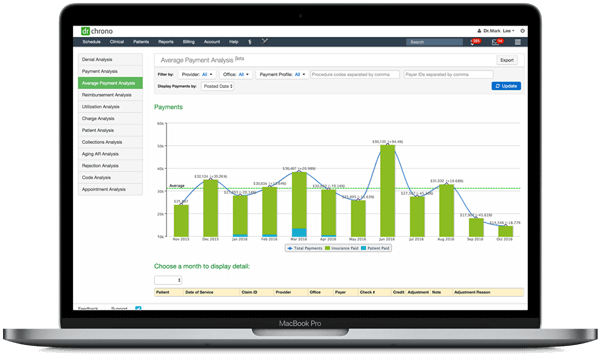 Top Features Loved by Ophthalmologists
Scheduling Widget
Do you have patients coming in from many different sources? Simplify scheduling by placing a DrChrono widget on your website or wherever you find patients online. Potential patients can schedule themselves based on real-time appointment openings in your practice.
SEE A QUICK DEMO
Custom Forms
DrChrono forms are fully customizable for every imaginable Ophthalmology procedure. Use our pre-loaded eye resources & templates and create workflows optimized to individual procedures or providers.
WATCH A DEMO
Cloud-Based System
Work from anywhere with DrChrono's cutting-edge cloud-based system. No longer are you tied to servers or paper - now, everyone can stay on top of information no matter where they are. Our system also allows for immediate updates so you're always armed with the best technology.
SCHEDULE A DEMO TODAY
Advanced Reports
Gain the most customized insights into your patients & practice with advanced reporting. No data is stuck in a preset way - access your information however is most helpful for you. Create reports to help you make better decisions and run a more intelligent practice.
SEE HOW IT WORKS
Appointment Profiles
Ophthalmologists deal with a diversity of patients and procedures, which can make charting on an old-school EHR complicated. With DrChrono, set appointment profiles customized to each type of common appointment you see.
LEARN MORE
Open API Integrations
DrChrono believes that you should have as many tools at your disposal as possible. Our open API allows you to connect hundreds of integrations that improve your workflow. DrChrono is built to make the most of your data so that you can serve your patients better.
TALK TO AN EHR EXPERT
An Award-Winning Experience
---
Ready to transform your practice?
Request a product demo with an EHR Specialist today!
Request a Free Demo