DrChrono Mental Health EHR and Medical Billing
Innovative mental health care at your fingertips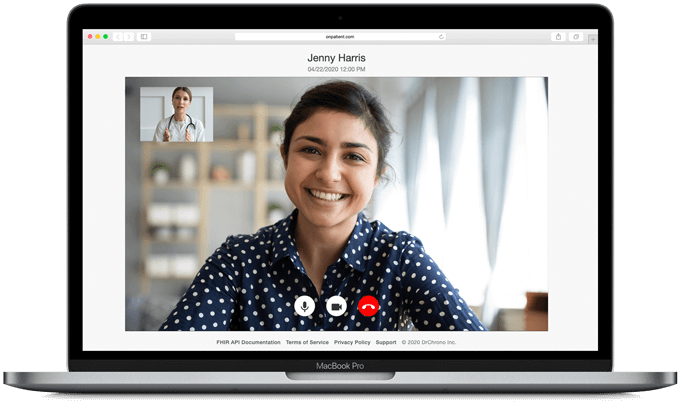 Conduct Video Visits
Schedule and conduct virtual visits directly from your EHR with our HIPAA-compliant, easy-to-use technology.
Schedule and conduct visits directly from your EHR platform without additional downloads or integrations
Let patients schedule their own in-person or video visits from their patient portal.
Patients have the option to receive a link to their virtual visit without any set-up required on their end.
After scheduling a Video Visit through DrChrono's telemedicine platform, allow patients to sign forms and fill out background questions
Schedule a Demo
Medical Billing Compatibility to DSM-5 Coding
Improve data accuracy and productivity with integrated practice management, EMR and billing platforms.
Eliminate multiple data entries or errors - enter information once and have data pass throughout our seamlessly integrated system.
Use billing profiles to bundle codes for common diagnoses such as depression or ADHD, ensuring accuracy and efficiency.
Auto-populate billing codes directly into your notes and superbills, full compatibility with DSM-5 coding so you get paid what you deserve.
Utilize our real-time eligibility verification to keep track of claims submitted and their status with the clearinghouse and insurance companies - to make sure you receive the proper reimbursement for common treatments or therapies.
Make billing more efficient with our bulk claims, live claims feed, and a reporting dashboard.
Schedule a Demo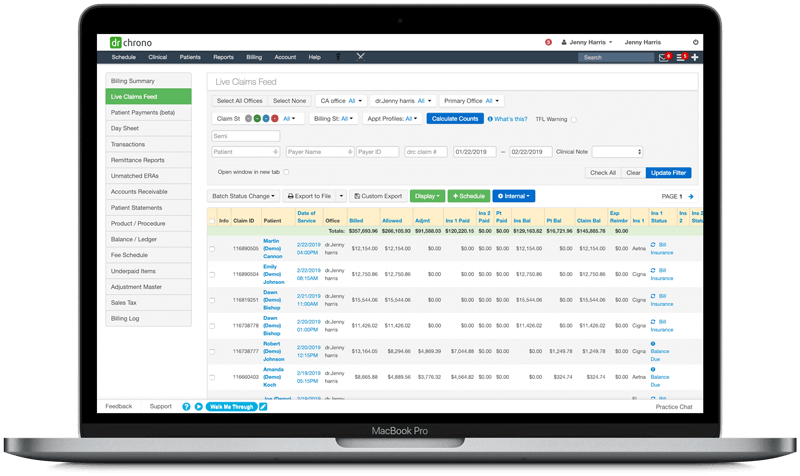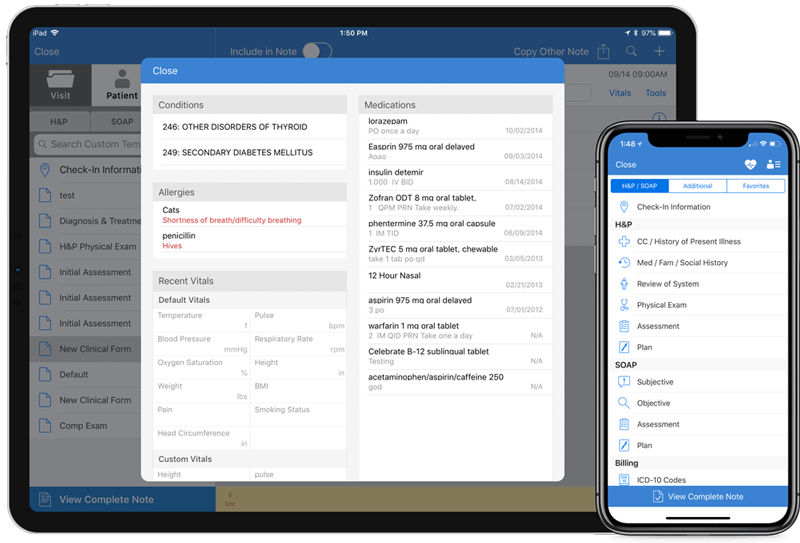 Run a Patient First Practice
Streamline administrative tasks and improve patient encounters.
Allow patients to sign and submit all forms and insurance information online before the appointment or via the Mobile Check-in App.
Allow patients to fill out necessary forms before getting to the appointment to help you better understand, assess, and care for your patients' behavioral health condition.
Reduce no shows and keep patients on track with their treatments using automated appointment reminders.
Reach patients unable to visit the office with secure HIPAA compliant messaging and face-to-face telemedicine for any off-site appointments.
Use appointment profiles to quickly schedule different appointment types and lengths.
Schedule a Demo
Maximize Revenue Collection
Verify insurance and procedure eligibility in real time.
Get denial claims addressed within 24 hours and expedite the payment process.
Communicate directly with Revenue Collection experts and an experienced medical billing team.
Make better data-driven decisions with complete transparency into your practice's financial status.
Schedule a Demo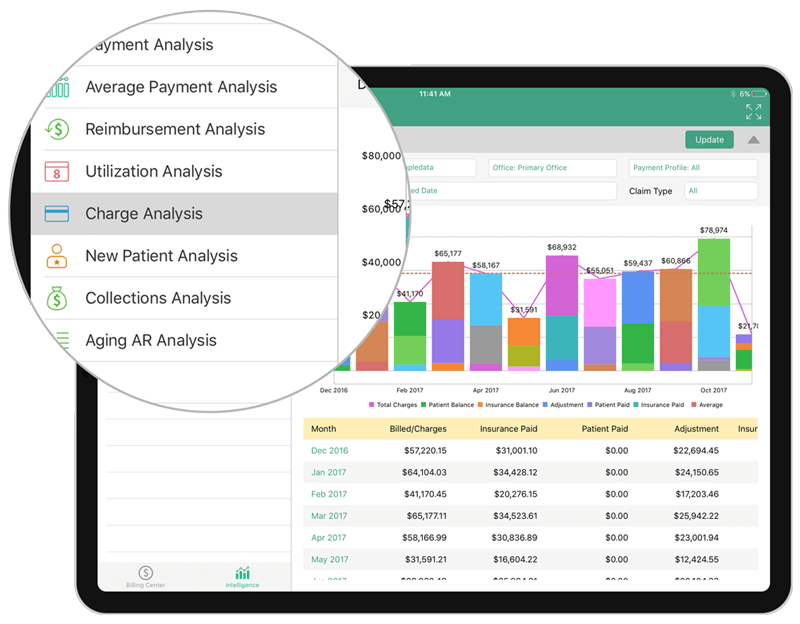 Features Loved by Mental Health Professionals
Check in Kiosk and Native iPad App
Evaluate your patients with custom intake forms right when they check in. Stay mobile and work side by side with your patients through exercises by using DrChrono EHR on your iPad.
Automated Reminders - Email, Text & Phone
Easily engage your patients to keep them ontrack for recovery.
SEE A QUICK DEMO
PT Forms/Template Library
Use preset templates made by other DrChrono PTs or customize any forms to your charting needs with drag and drop functionality.
SEE A QUICK DEMO
Photo and Video Drawing Tools
Take pre/post program photos and annotate directly on them. Illustrate exercises easily by recording videos of the patient.
SEE A QUICK DEMO
Fast Medical Claim Submissions
Utilize clearinghouses specialized in workers comp and other physical therapy specific claims to process claims quickly and receive payments fast.
onpatient Patient Portal
Prescribe patient education materials and home exercise programs that can be referenced right from the patient portal on iPad, iPhone or computer. Track outcome assessments for follow-up appointment.
SEE A QUICK DEMO
An Award-Winning Experience
---
Ready to transform your practice?
Request a product demo with an EHR Specialist today!
Request a Free Demo