All-in-One EHR & Medical Billing Solution
for Family Medicine
Increase Patient Satisfaction And Practice Profitability
All-in-One Integrated EHR and Medical Billing
Seamlessly integrate patient engagement with scheduling, clinical workflow and medical billing with our end-to-end system.
Prevent lost ERAs, transcription errors, and double-entry on labs, eRx, billing and more.
Access medical records, PHI, and billing information from anywhere on iPhone, iPad, and computer.
Schedule a Call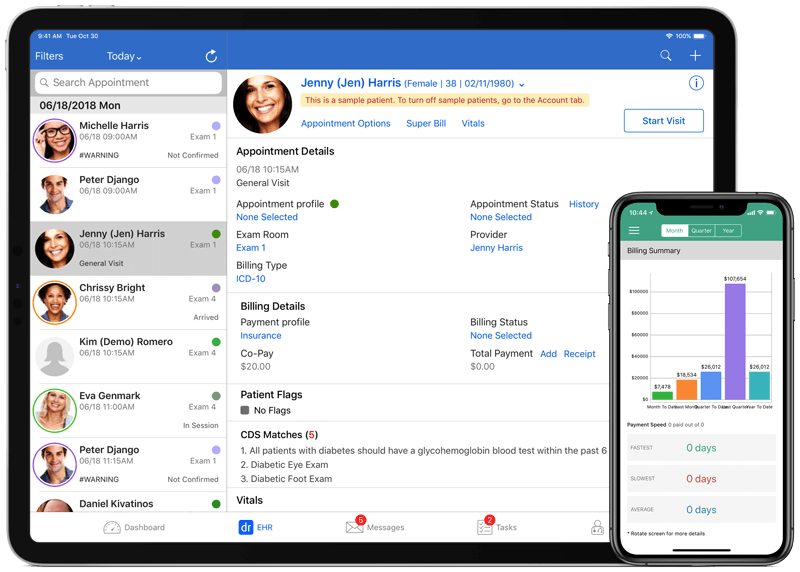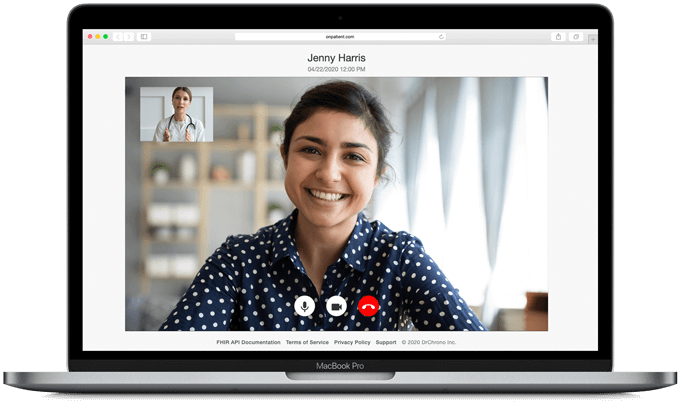 Conduct Video Visits
Schedule and conduct visits directly from your EHR platform without additional downloads or integrations.
Let patients schedule their own in-person or video visits from their patient portal.
Patients have the option to receive a link to their virtual visit without any set-up required on their end.
Schedule a Call
Customizable Clinical Tools
Chart in seconds with customizable medical forms, medical speech-to-text and drawing tools.
Use pre-built dynamic medical forms, and customize them for your practice needs with your own diagrams and clinical photos.
Prescribe both regular and controlled substances electronically (EPCS) from your iPhone, iPad or computer anywhere, anytime.
Place lab and imaging orders directly from your EHR app and receive results right in the patient's chart from your iPad.
Schedule a Call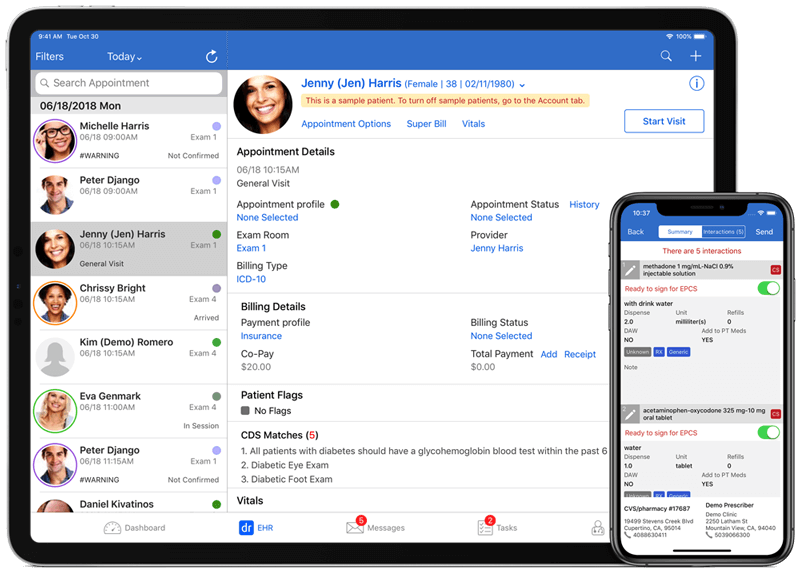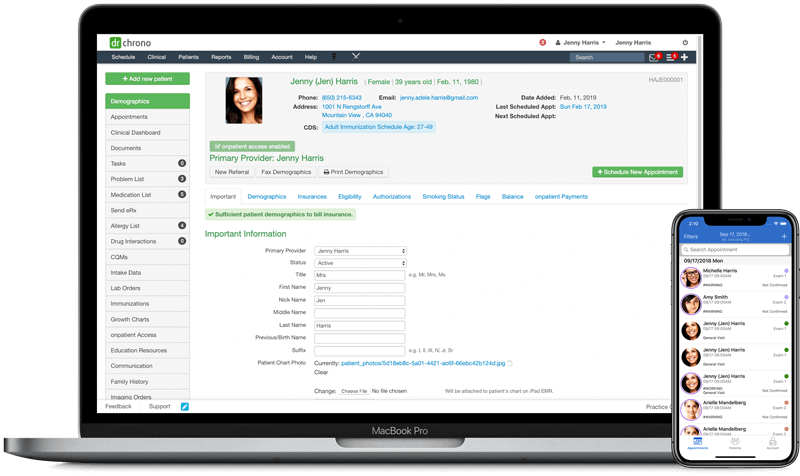 Modernize Patient Engagement with Patient Portal
Increase patient satisfaction while saving hours of administrative time with online scheduling, real-time insurance eligibility check, and automated appointment reminders.
Exchange secure, HIPAA compliant messaging through OnPatient, DrChrono's integrated patient portal.
Upload your patient education materials or use resources offered through DrChrono and third-party institutions.
Focus on patient care while our virtual back office optimizes your revenue collection.
Check-in patients paperlessly with digital consent forms on iPad kiosks or have patients check in through the patient portal at home.
Schedule a Call
Maximize Revenue Collection
Help the back office with clean claims and timely medical statements.
Denial claims addressed within 24 hours to expedite payment process.
Gain complete transparency into practice financial status.
Focus on patient care and leverage a virtual back office to optimize your revenue collection.
Communicate directly with revenue collection experts and medical billing team.
Schedule a Call
Top Features Loved by Family Medicine Doctors
Mobile Scheduling & Patient Check-in
Express onboarding, automatically send appointment reminders, and verify insurance in real time.
SEE A QUICK DEMO
Customized Smart Medical Forms
Choose from our library of internal medicine templates, or have the DrChrono team create templates specific to your practice's workflow.
SEE A QUICK DEMO
Digital Consent Forms
Go fully paperless by using the iPad to electronically sign consent forms.
SEE A QUICK DEMO
Advanced eRx with EPCS
Prescribe from your EHR within your workflow, and easily pull up a map of the local pharmacies near the patient's home or near the office.
SEE A QUICK DEMO
Referral and Summary of Care Forms
Easily refer your patients to specialists directly through DrChrono, or communicate with other providers outside of the DrChrono network.
SEE A QUICK DEMO
Real-Time Insurance Eligibility Check
Check patient and procedure insurance eligibility in real time, saving your staff time and effort. Coverage details are also available when reviewed on iPad, iPhone and web.
Lab Integration with Local Lab
Order lab work from 9,000+ diagnostic labs and 35,000+ radiology centers, and receive the results directly in your EHR. Order any diagnostic lab work in seconds on your iPad or computer. DrChrono facilitates both unidirectional and bidirectional interfaces.
SEE A QUICK DEMO
Fast Medical Claim Submission
Easily check insurance eligibility with a click. Automatically populate ICD10, CPT and any other codes. Send your claims to your biller or submit directly to insurance from your EHR. Manage all of your claims with the same tools that DrChrono's RCM team uses.
SEE A QUICK DEMO
Fully Integrated Payments
Streamline your payment workflow, simplify record-keeping and accept payments anytime, anywhere! With DrChrono Payments, we make it easier for you to interact with patients in the methods they prefer.
Want to Learn More?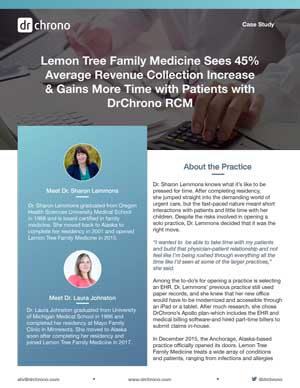 DrChrono RCM Boosts Revenue Collection by 45% for Family Medicine Practice
Lemon Tree Family Medicine Sees 45% Average Revenue Collection Increase & Gains More Time with Patients with DrChrono RCM