EHR Software Designed for Your Dermatology Practice
Customized EHR & Medical Billing Solution for Dermatologists
Increase Practice Productivity with All-In-One EHR
Improve your practice operation with integrated scheduling, clinical workflow and medical billing.
Minimize paperwork and errors with a single data entry system that auto-populates patient information to clinical charts, procedures, and lab and radiology orders.
Go paperless and optimize the onboarding process with online patient consent forms and real time insurance verification.
Review and sign faxes and referrals directly on DrChrono EHR.
Schedule a Demo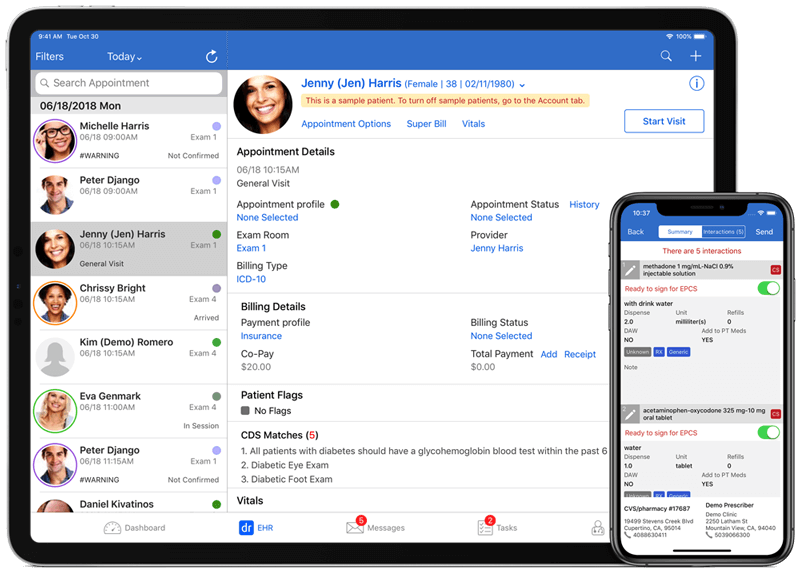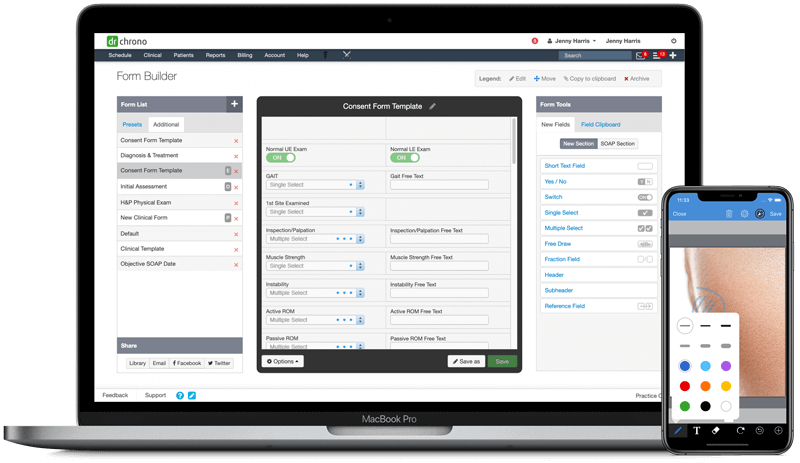 Improve Patient Care with Smart, Robust Clinical Tools
Take HIPAA compliant photos of your patient's condition on iPhone or iPad and use free draw to annotate directly on these photos.
Chart in seconds with medical speech-to-text feature and medical templates tailored to your patient's conditions including skin cancer, eczema, nail infections, acne, psoriasis, and more.
Conveniently e-prescribe medications including controlled substances with EPCS built into the clinical workflow on iPad, iPhone or computer anytime, anywhere
Schedule a Demo
Help Patients Feel Their Best
Use Patient Education to promote patient wellness and teach them how to care for their skin, hair and nails.
Exchange messages with patients through a secure, HIPAA compliant patient portal.
Allow patients to self check-in using Kiosk feature on iPad at the waiting room, resulting in a faster check-in time for patients.
Reduce no-shows by sending your patients automated appointment reminders via text, phone and email.
Schedule a Demo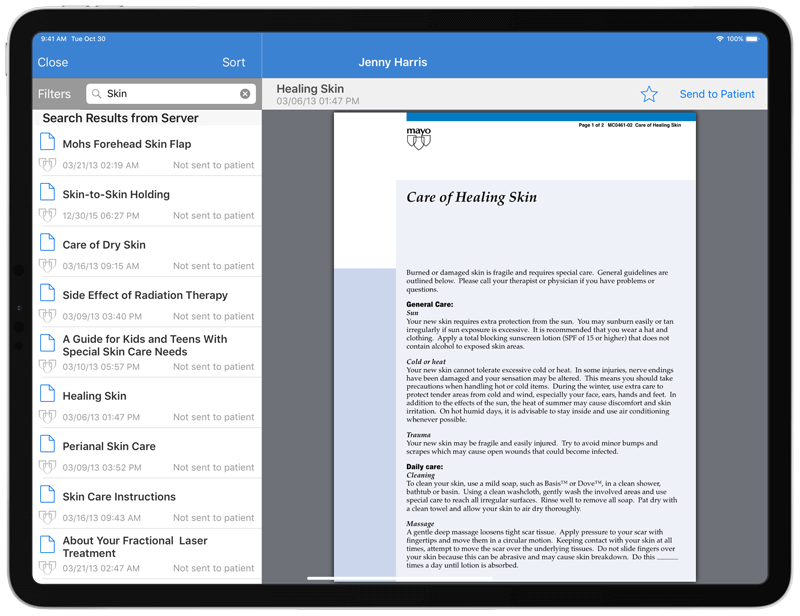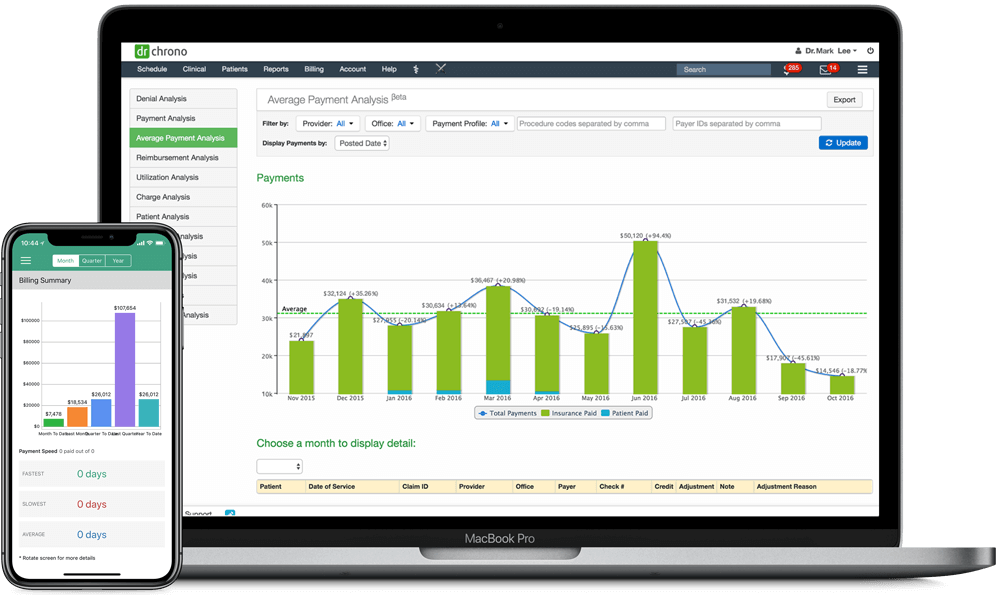 Get Paid More & Faster with RCM
Verify insurance and procedure eligibility in real time.
Get denial claims addressed within 24 hours and expedite the payment process.
Communicate directly with Revenue Collection experts and an experienced medical billing team.
Make better data-driven decisions with complete transparency into your practice's financial status.
Schedule a Demo
Conduct Video Visits
Schedule and conduct visits directly from your EHR platform without additional downloads or integrations
Let patients schedule their own in-person or video visits from their patient portal.
Patients have the option to receive a link to their virtual visit without any set-up required on their end.
Quickly and easily schedule a new telemedicine visit, or convert an existing in-person visit to a Video Visit with one click.
After scheduling a Video Visit through DrChrono's telemedicine platform, allow patients to sign forms and fill out background questions
Schedule a Call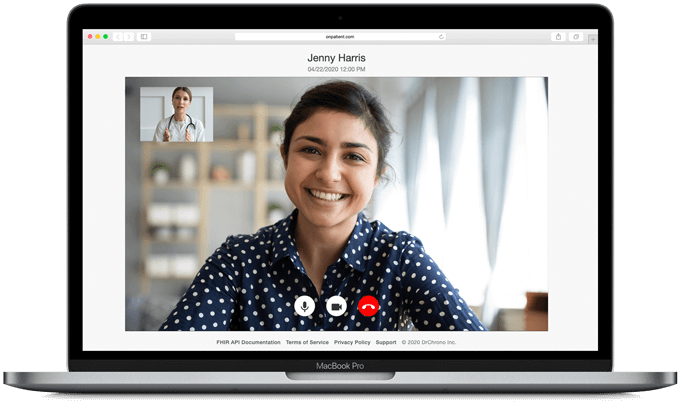 9 DrChrono EHR Features Dermatologists Love
Fully Customizable Patient Scheduling Tools
Allow patients to schedule their appointment according to your practice's workflow. You can upload a website widget, use a patient portal, or access mobile EHR app on the go.
SEE A QUICK DEMO
Direct Messaging with Other Providers and Patients
Communicate with patients and providers over a HIPAA compliant patient portal.
Fully Customizable Medical Forms
Use pre-built templates, or create your own easily.
SEE A QUICK DEMO
Patient Self Check-In on Kiosk Mode
Save time onboarding patients by allowing new and current patients to self check-in on the iPad. Patients also have the option of checking in from home.
Lab Accessibility
Order lab work from over 9,000 diagnostic labs and 35,000 radiology centers, and receive the results in your patient's chart on DrChrono EHR.
SEE A QUICK DEMO
e-Prescribe/EPCS
Order medications including controlled substances (EPCS) during a patient exam and send prescriptions from iPhone, iPad or computer.
SEE A QUICK DEMO
Patient Portal
Send patient education materials such as surgery instructions and stay connected via a secure HIPAA compliant portal.
SEE A QUICK DEMO
Free Draw
Upload X-ray images and draw or annotate directly on it. Then upload it directly into your clinical note.
SEE A QUICK DEMO
Clinical Photos on iPad and iPhone
Take HIPAA compliant, high resolution photos with iPad or iPhone. Annotate directly on these photos and then add them to your clinical notes.
SEE A QUICK DEMO
An Award-Winning Experience
---
Ready to transform your practice?
Request a product demo with an EHR Specialist today!
Request a Free Demo