State-of-the-Art EHR for Cardiology Practices
All-in-One Cardiology EHR Solution
Standard and Custom Cardiology Templates for quick charting.
Integrated text expanders, medical speech-to-text and photo/drawing tools.
eRx and EPCS available on iPhone, iPad, and web.
Lab orders and results immediately available in workflow and patient chart.
Schedule a Demo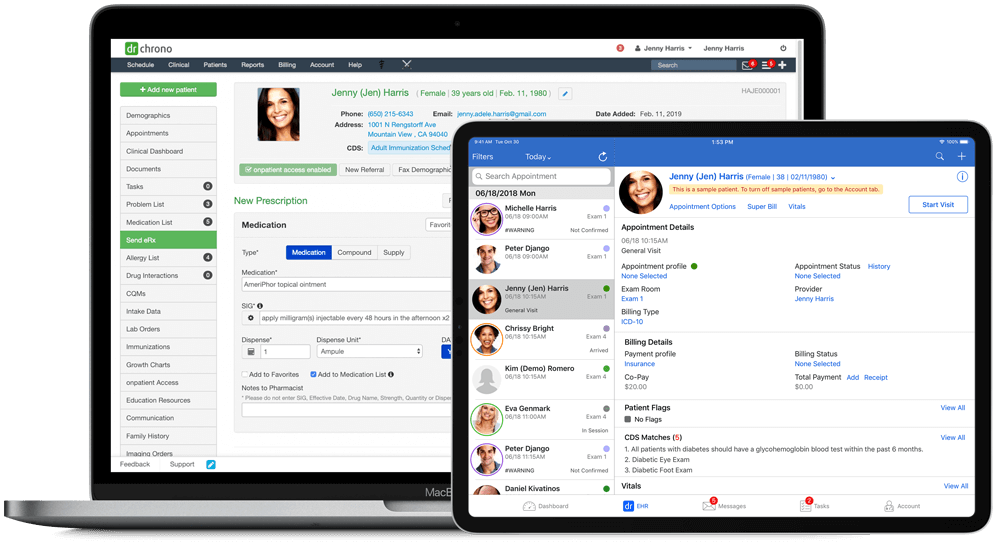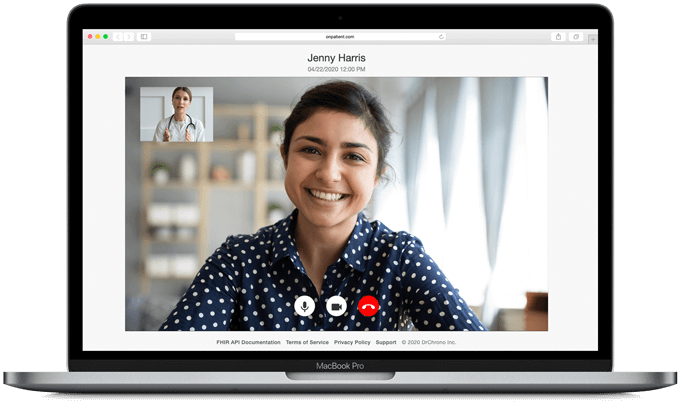 Conduct Video Visits
Schedule and conduct visits directly from your EHR platform without additional downloads or integrations
Let patients schedule their own in-person or video visits from their patient portal.
Patients have the option to receive a link to their virtual visit without any set-up required on their end.
Quickly and easily schedule a new telemedicine visit, or convert an existing in-person visit to a Video Visit with one click.
After scheduling a Video Visit through DrChrono's telemedicine platform, allow patients to sign forms and fill out background questions
Schedule a Call
Maximize Revenue Collection
Oversee all of your claims with fully integrated modern billing system and data reporting.
Improve patient experience with clean claims and timely medical statements.
Complete transparency into practice financial status, and direct communication access to revenue collection and medical billing experts.
24-hour denial claim response with Revenue Cycle Management (RCM) service.
Schedule a Demo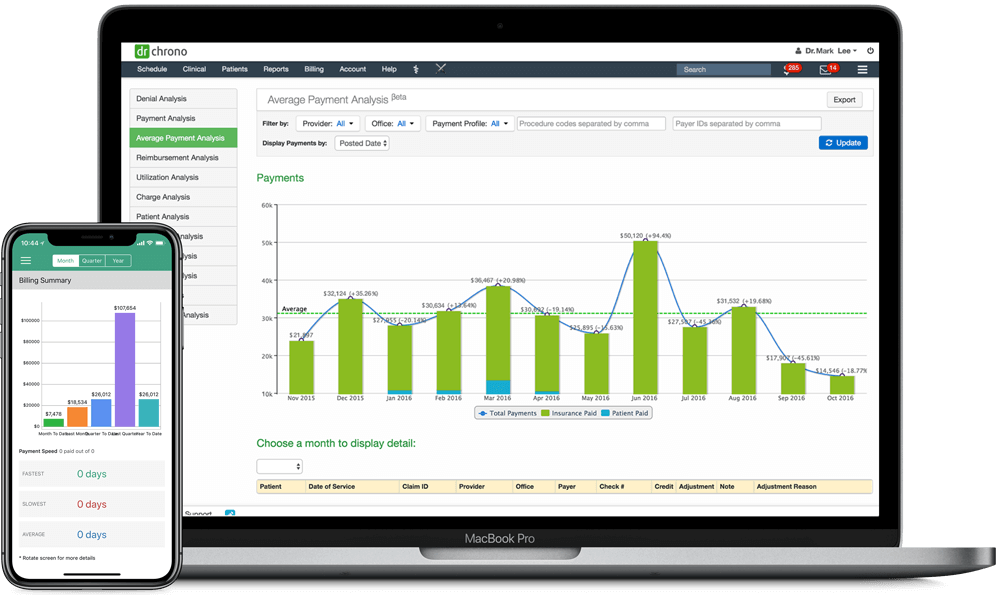 Top Features Loved by Cardiologists
Cardiology Templates
Select from a library of Cardiology Templates such as CAD, CHF, Chest Pain shared by your colleagues and customize them as you need for your workflow. Or work with the DrChrono team to create your own.
SEE A QUICK DEMO
Medical Billing Tools
Easily check insurance eligibility with a click. Automatically populate ICD10, CPT and any other codes. Send your claims to your biller or submit directly to insurance from your EHR. Manage all of your claims with the same tools that DrChrono's RCM team uses.
SEE A QUICK DEMO
Lab Integration with Local Labs
Connect to any of your local labs and send and receive lab orders and lab results directly from your iPad, iPhone or Web. Have detailed trends on blood tests, EKGs and more.
SEE A QUICK DEMO
EPCS & eRx
Securely e-prescribe regular and controlled substances from any device, and select pickup locations that are convenient for your patient.
SEE A QUICK DEMO
Automated Reminders - Email, Text, & Phone
Dedicate the front desk to more patient facing activities and automate reminders with varying reminder cadences.
SEE A QUICK DEMO
RCM Services
Focus more on patients and clinic operations and have DrChrono provide medical billing and coding services.
Native iPad and iPhone EHR
Have the flexibility of mobility. Using the DrChrono EHR apps you can do everything from charting to billing on the go.
Robust Patient Portal
Have constant communication with your patient regarding their health with an extremely easy patient portal that also helps to provide patient data such as daily blood pressure readings.
SEE A QUICK DEMO
3rd Party Integrations
Integrated with the Apple Health Kit, Eko, and more, your practice is on the bleeding edge of technology and able to provide the best care for your patients.