DrChrono EHR & RCM for Urgent Care Centers
DrChrono helps urgent care centers provide high quality patient care while getting patients in and out as quickly as possible.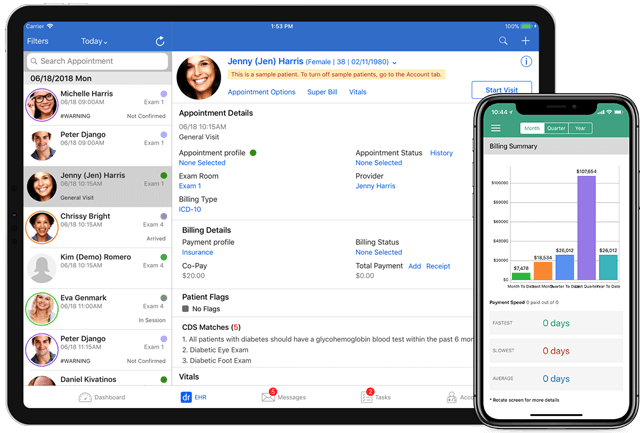 Average Door to Door Time
30%
Average Increase in Revenue Collection
96%
Clean Claim Submission Rate
96%
Claims paid within 60 days
See Patients Efficiently, Apply Medicine Effectively
Fast, Yet Effective Patient Care
Fast charting with medical forms customized for common urgent care conditions including UTIs, lacerations and flu
Provide care and document by patient side with full featured EHR on iPad and iPhone
eRx w/EPCS: e-Prescribe both regular and controlled substances on iPad, iPhone & web
Send labs and receive results directly into patient chart from over 40,000 labs
Accept new patients and pull up old patients quickly with easy to use interface
Maximize Profitability
Minimize door-to-door time to increase patient throughput
Reduce overhead cost with self check-in Kiosk stations on iPad
Replace your back-office with full service RCM including coding
48 hour turnaround on denials and rejections
Increase your claims submission rate
Stay on top of your billing status with a dedicated account manager
Save time and improve billing accuracy by entering patient data only once
Elevate Patient Experience
Allow patients to self check-in on iPad Kiosk immediately upon arrival
Eliminate paperwork with digital check-in forms on iPad
Let patients book appointments after hours
Offer easy appointment booking experience with customizable online booking widget with provider availability and virtual queue
Reduce Patient Wait Time with Virtual Queue (available with integrated partner)
Increase Repeat & New Patient Visits
Increase new patient conversion rate and fill last minute cancellation with real time online provider availability and self booking feature
Improve patient satisfaction with instant feedback loop and minimize negative reviews
Boost practice reputation by generating reviews on Yelp and Google with easy to use social review feature
About DrChrono
Patients cared for by DrChrono physicians
Appointments booked/per Month
96%
Claims paid within 60 days
All-in-one Integrated, Cloud-Based EHR on iPhone, iPad, and Web
Seamlessly integrated patient scheduling, clinical workflow and medical billing
Single system of records preventing transcription errors, multiple data entries and lost bill
Complete data access on one cloud-based system
Pre-appointment insurance eligibility check and automated reminders
HIPAA compliant patient portal with secure messaging
Advanced clinical tools including customizable medical forms, medical speech-to-text tools and photo charting
What Urgent Care Centers Are Saying About DrChrono
"
The entire process of setting up and customizing DrChrono was incredibly easy and after a few short training sessions with our very own implementation specialist we were ready to go.
DrChrono allows my nurses to very quickly register a patient, input charges and bill them out with no difficulty at all. One of the biggest selling points of the system is the integration with our lab company where patient lab tests can be ordered right from DrChrono with only a few clicks and lab results go straight into the patients' medical record.
In the past we had to use 4-5 different computer systems in order to accomplish everything we can do with DrChrono. The cost savings, lab integration and friendly user interface (including mobile) are just some of the reasons why we are extremely happy with DrChrono and won't ever look back.
"
- Urgent Care 24/7, Jerry Williams, MD
Have any further questions about DrChrono
UrgentCare EHR
or interested in scheduling a private demo? Please email us at
ehr@drchrono.com
.