DrChrono EHR - Integrated EHR, Practice Management, and Billing Platform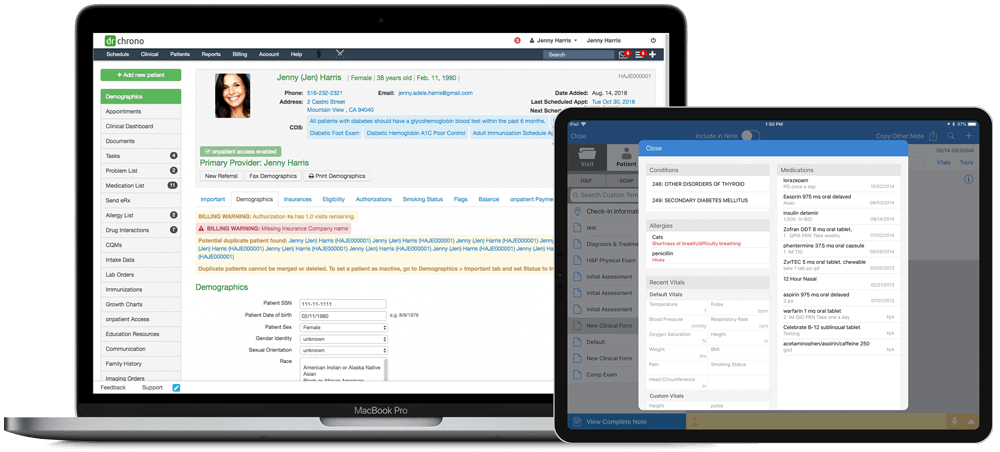 Why DrChrono?
---
Unparalleled Mobile EHR
Remove the desktop-sized barrier between your patients and physicians. Our easy-to-navigate EHR allows for secure, intuitive access to all your records and services from your iPad, iPhone, M-Series Mac and web browser.
Telehealth
Schedule and conduct free Video Visits* directly from your EHR without additional software, downloads or integrations needed. Our telehealth platform lets you complete other tasks, such as e-prescribing, without exiting out of the appointment. Conduct visits on your iPhone, iPad or desktop as well. * up to 5,000free minutes per month per provider
Revenue Cycle Management
Allow an experienced RCM team to save your practice time and money with a 96+% clean claims rate, as well as coding and billing services.
Practice Management
Online scheduling, self check-in, automated appointment reminders reduce no-shows. Our HIPAA-compliant patient portal gives your patients free and fast access to their medical records, which are all in line with the Open Notes Mandate as part of the Cures Act.
Partner Marketplace
From AI-based appointment management to MIPS reporting tools, choose from a wide selection of important apps to integrate into the EHR through our open API.
A Complete All-in-One Software Fully Customizable to Fit Your Needs
---
Take advantage of specialty-focused template libraries, customizable clinical documentation and speech-to-text features for easy charting.
Integrate with over 40,000 labs around the United States, send electronic lab orders and upload results directly into a patient's chart.
Check eligibility with one click, reducing time consuming tasks for your staff.
Get free implementation services and ongoing support from a dedicated account manager and customer support.
Send e-prescriptions of regular and controlled substances anytime on iPad, iPhone or web.