DrChrono EHR - Integrated EHR, Practice Management, and Billing Platform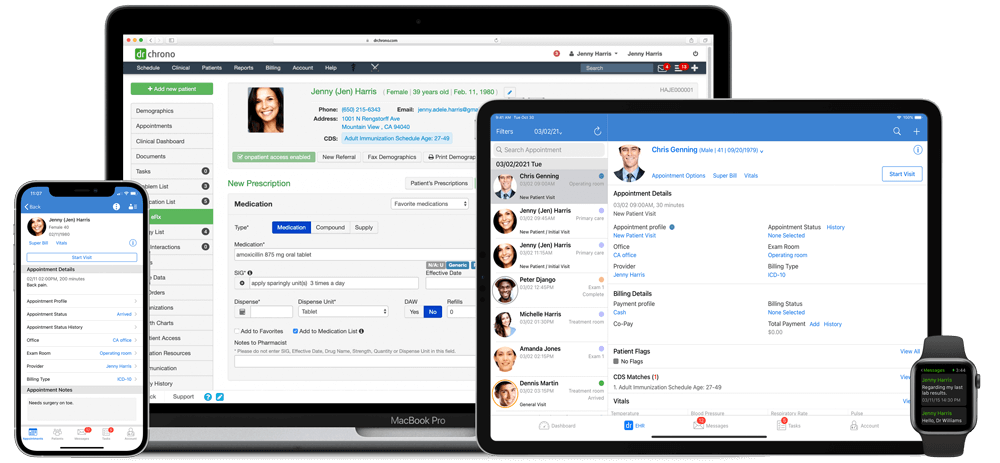 Why DrChrono?
---
Unparalleled Mobile EHR
Our EHR was built to be used on iPad, iPhone, and web. The modern interface makes navigation easy and intuitive. Have secure access to all your records and services from any device.
One Solution for your Medical Record Needs
Integrate with over 40,000 labs around the United States, send electronic lab orders and upload results directly into a patient's chart. eRx with EPCS is secure and available.
Fully Integrated Software
This all-in-one integrated scheduling and patient engagement tools work to optimize your office workflow. Eliminate no-shows with tools such as text, phone, and email reminders
A Complete All-in-One Software Fully Customizable to Fit Your Needs
---
Software built in tandem to make workflow seamless across the platform.
Avoid costly mistakes by bypassing double data entry.
With our billing software, billing codes are pulled from your medical notes and ready to be approved.
96% of claims are paid within 60 days.
Automate workflow and improve patient engagement.
Integrated practice management included at no added cost.
Online check-in and a secure patient portal help reduce paperwork and increase efficiency.
Check eligibility with one click, reducing time consuming tasks for your staff.